Another 50% daily gain for Dogecoin confirms 'alt season' as Bitcoin slumps
The cryptocurrency market awoke to the sight of Dogecoin (DOGE) price surging to as high as $0.69 in the past two days, leading many to wonder if the recent performance of the world's most popular meme token is now the leading indicator for the arrival of alt season. 
Long-time crypto fans mark the fourth of May as a special day for the Bitcoin community as a whole for being the birthday of one of the earliest known supporters of the Bitcoin network Hal Finney, who would have celebrated turning 65.
Data from Cointelegraph Markets and Tradingview shows that while the world's attention was focused on Dogecoin, Bitcoin (BTC) faced selling pressures, which began the night before and dropped the price of BTC back below the $55,000 support level by mid-day on Tuesday.
While BTC continues to trade in the $50,000 to $60,000, or what some traders see as the "twilight zone," the price of Ether (ETH) again climbed to a new all-time high at $3,519 as institutional managers now hold a record $13.9 billion worth of the top altcoin and smart contract platform.
Yellen's comments about US Fed rates shake the markets
The global financial markets faced headwinds on Tuesday along with a majority of cryptocurrencies following remarks from U.S. Treasury Secretary Janet Yellen who indicated that the Federal Reserve may need to raise interest rates to "prevent overheating."
According to Ben Lilly, analyst and cofounder of Jarvis Labs, "US Fed Rates tend to be a barometer for global markets," so BTC's status as a macro asset was "surely impacted by Yellen's comments even though she is not the current Fed Chair."
Looking deeper into the recent activity on the Bitcoin network, Lilly indicated that "on-chain transactions have been lackluster since the major options expiry last week" which hasn't helped provide a buffer against negative news like the comments from Yellen.
Lilly said,
"It wouldn't surprise us to see a significant pull back before we realize six-figure bitcoin."
These sentiments were echoed by David Lifchitz, chief investment officer at ExoAlpha, who pointed to a breakdown in Bitcoin's previous pattern of higher highs as a sign that BTC will have a difficult time breaking out above $60,000 without a significant catalyst.
When it comes to Ethereum however, Lifchitz stated that "ETH has been in its own bull world" as evidenced by establishing "new highs every day over the past eight days."
According to Lifchitz, while the exact cause of the ETH run is hard to determine, one plausible explanation could be that "some investors looked at ETH as an underpriced crypto compared to BTC since it's recent run and decided that ETH was a cheap alternative to BTC."
Other catalysts identified by Lifchitz include the increased usage of ETH in decentralized finance as well as a possible "buy the rumor, sell the news" scenario developing ahead of the upcoming Ethereum Network upgrade EIP 1559 that will take place in July.
Lifchitz highlighted the tendency of cryptos to make bigger moves on momentum plays than they do on a fundamental basis, "essentially due to investors chasing short-term performance no matter what the fundamentals are."
Lifchitz said,
"We could see a bit of pure performance chasing on momentum with ETH. Price increases on pure momentum can go on for longer than one can expect, as long as there's a greater fool, but the fallback is usually pretty harsh and quick when the game stops."
Dogecoin steals the show
Conversations in the wider cryptocurrency community were dominated by the performance of Dogecoin, which surged by 54% overnight to reach a new all-time high of around $0.68 on some exchanges.
Other notable performances include a 30% increase in the price of iExec RLC (RLC) to a new all-time high at $4.45 and a 50% surge in the price of Ethereum Classic (ETC) to $79.
The overall cryptocurrency market cap now stands at $2.25 trillion and Bitcoin's dominance rate is 45.2%.
The views and opinions expressed here are solely those of the author and do not necessarily reflect the views of Cointelegraph.com. Every investment and trading move involves risk, you should conduct your own research when making a decision.
Ether balances on centralized exchanges fall to lowest level since June 2019
According to analysis from on-chain analytics provider Glassnode, the sum of Ethereum on exchanges has fallen to its lowest level for almost two years.
Glassnode estimates that just 13.3 million Ether is currently held on centralized exchanges, the lowest it has been since June 2019. As such, centralized platforms hold roughly $52.4 billion worth of ETH or 11.5% of Ethereum's entire supply.
#Ethereum $ETH Balance on Exchanges just reached a 23-month low of 13,384,235.936 ETH

View metric:https://t.co/1dCpD2ey8E pic.twitter.com/FGZHqXr3Pa

— glassnode alerts (@glassnodealerts) May 10, 2021
The number of Ether on centralized exchanges has fallen 30% in 9 months since peaking at 19 million ETH during September 2020.
A low balance of ETH on exchanges is typically understood to be bullish for the markets as it drives a reduction in supply relative to demand on popular trading platforms. Dwindling exchange balances suggest long-term investors are moving their assets into secure storage or locking their funds up to earn yields through decentralized finance protocols or staking.
In its Monday "Week on Chain" report, the data provider also noted that there has been some reduction in exposure to Bitcoin in favour of Ethereum.
Glassnode correlated the spending behavior of reasonably old Bitcoin unspent transaction outputs of between 6 months and 3 years, finding evidence that long-term investors could have been recently flipping into ETH:
"Whilst this is only an empirical observation (correlation <> causation), the distinct increase in these older BTC being spent back into circulation after a prolonged period of holding makes a compelling case."
The report added that on-chain activity has increased significantly over the past four weeks for Ethereum amid Ether's recent bullish price action. The total number of smart contract calls, Uniswap transactions, and daily transactions, have all seen notable upticks since the beginning of the year.
Daily transactions hit an all-time high of 1.63 million this week, representing a 22.5% increase over December 2017's previous peak.
At the time of writing, Ethereum prices were trading at just below $3,900 — cooling from their recent all-time high of $4,220 on May 10.
TA: Bitcoin Fails Again, Here's Why BTC Remains At Risk of More Losses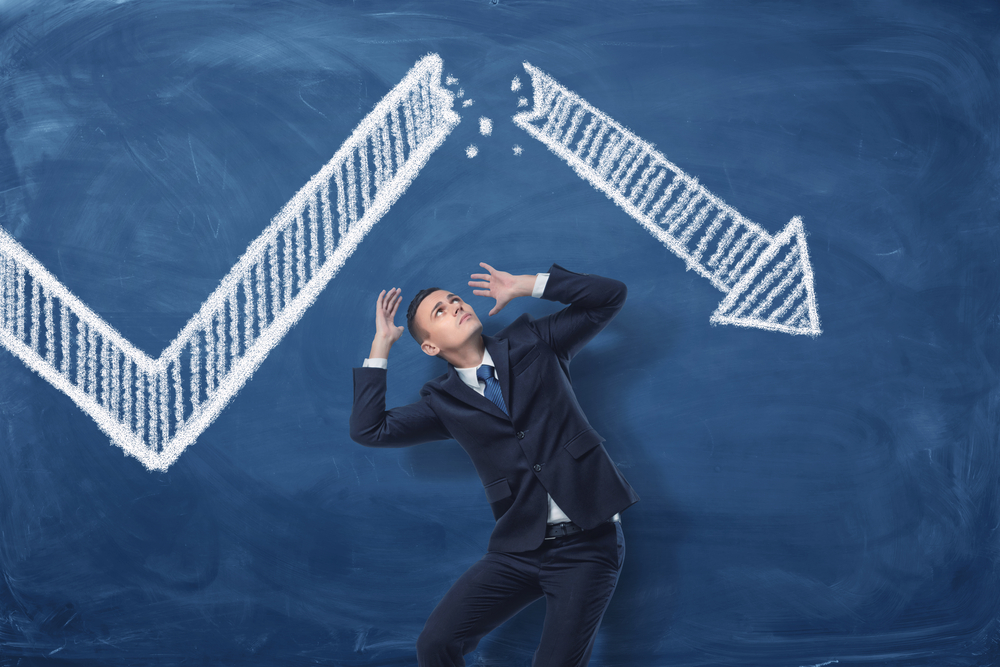 Bitcoin price failed once again to clear the $60,000 resistance zone against the US Dollar. BTC is showing a few bearish signs, but the $52,500 support holds the key.
Bitcoin failed to gain pace above $59,500 and it even struggled to test $60,000.
The price is now trading near the $55,500 support and the 100 simple moving average (H4).
There was a break below a key contracting triangle with support near $58,000 on the 4-hours chart of the BTC/USD pair (data feed from Kraken).
The pair is recovering losses, but it is facing a strong resistance near $57,000.
Bitcoin Price Trims Gains
Bitcoin cleared the $58,800 and $59,000 resistance levels. It even spiked above $59,500 level, but there was no follow through move. It struggled to even test the $60,000 resistance zone.
As a result, there was a bearish reaction below the $58,500 and $58,000 support levels. There was also a break below a key contracting triangle with support near $58,000 on the 4-hours chart of the BTC/USD pair. The pair dived below the $55,500 level and the 100 simple moving average (H4).
It traded as low as $53,445 and it is currently correcting losses. There was a break above the $54,000 and $54,500 levels. Bitcoin even climbed above the 23.6% Fib retracement level of the recent drop from the $59,590 high to $53,445 low.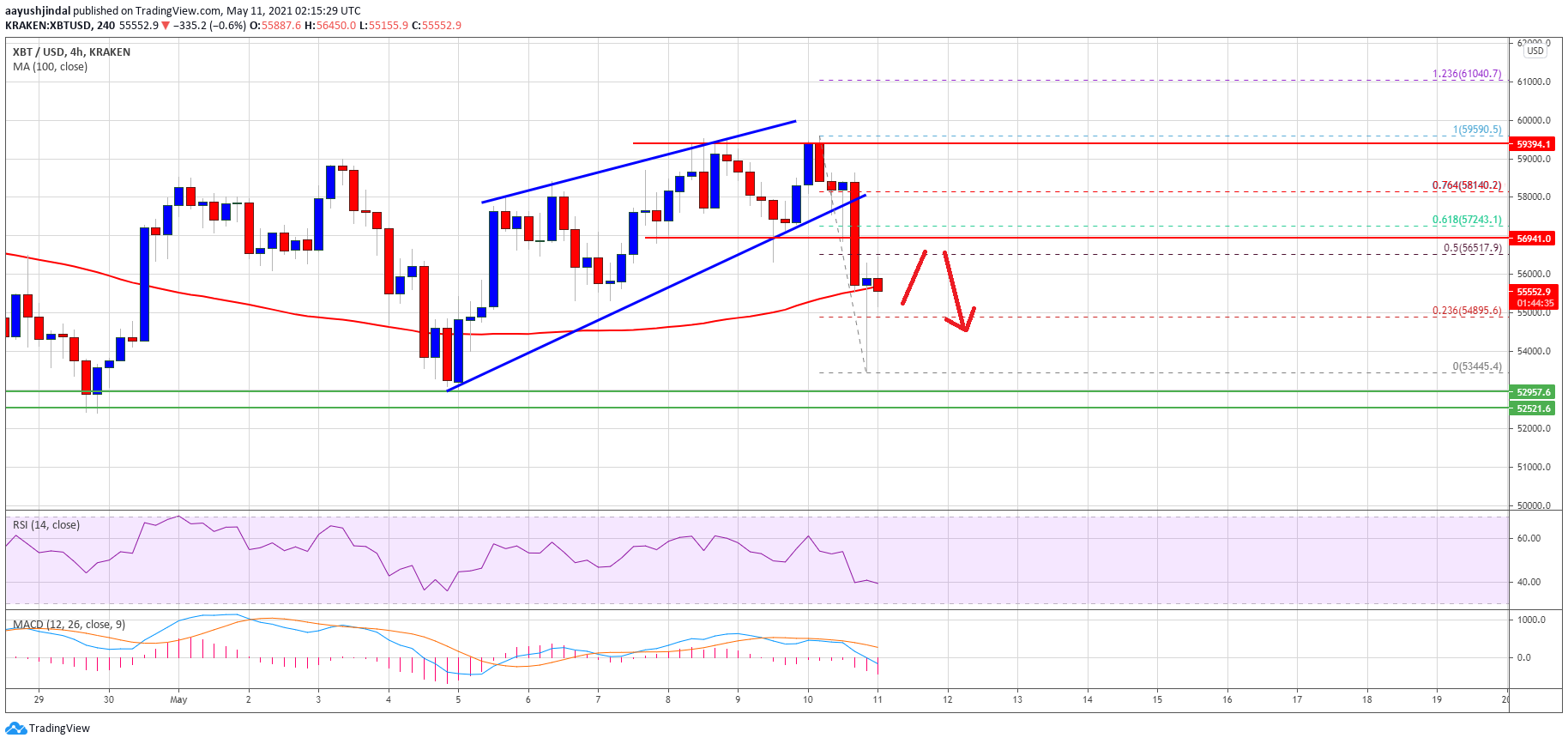 Source: BTCUSD on TradingView.com
The price is now trading near the $55,500 support and the 100 simple moving average (H4). An initial resistance is near the $56,500 level. It is close to the 50% Fib retracement level of the recent drop from the $59,590 high to $53,445 low.
The key resistance is now near the $57,000 level. A successful break above the $57,000 level is needed to start a fresh increase towards the $59,500 resistance zone in the near term.
More Losses in BTC?
If bitcoin fails to clear the $56,500 resistance or $57,000, it could extend its decline. An initial support on the downside is near the $54,500 level.
The first key support is near the $53,500 level and the recent low. Any more losses might call for a test of the main $52,500 support zone.
Technical indicators:
4-hours MACD – The MACD is slowly losing pace in the bearish zone.
4-hours RSI (Relative Strength Index) – The RSI for BTC/USD is now close to the 40 level.
Major Support Levels – $54,500, followed by $53,500.
Major Resistance Levels – $56,500, $57,000 and $59,500.
NFL Star Quarterback Tom Brady Hops on the Bitcoin Bandwagon, Turns on Laser Eyes – Featured Bitcoin News
Tom Brady, who is widely known as the greatest quarterback of all time, has hopped on the bitcoin bandwagon. The seven-time Super Bowl champion has added laser eyes to his Twitter profile.
Tom Brady Rumored to Be Loading up on Bitcoin
Football star Tom Brady has hopped on the bitcoin train. The Tampa Bay Buccaneers quarterback, who plays in the National Football League (NFL), is widely considered to be the greatest quarterback of all time. He became the G.O.A.T. (greatest of all time) in NFL history after winning his sixth Super Bowl two years ago. Brady has since won another Super Bowl.
Responding to a tweet by Blockworks' Jason Yanowitz that says: "Rumor has it Tom Brady is loading up on bitcoin. Retweet if you think the GOAT should turn on laser eyes. Let's make it happen." A few hours later, Brady replied: "Hmmmm should I change it??"
Without revealing whether he has bought bitcoin, the star quarterback proceeded to change his profile picture on Twitter to one with laser eyes.
The laser eyes meme has swept through the bitcoin community since February with the underlying meaning that anyone donning the eyes is laser-focused on bitcoin's price rising to $100,000. Politicians, celebrities, and investors have partaken and put laser eyes on their profile images.
The crypto community is very excited to have Brady onboard, viewing his laser eyes activation as very bullish. Many people on social media are already calling him a bitcoiner.
Microstrategy CEO Michael Saylor tweeted: "Bitcoin now has a star quarterback. Welcome to the team Tom Brady." He explained: "Laser eyes proclaim a technology to guarantee the human rights of life, liberty, & property. Laser eyes channel action even as they protect from dilutive distraction. Laser eyes signal intent to make bitcoin an instrument of economic empowerment." The Nasdaq-listed company has amassed almost 100K bitcoins for its treasury.
Angel investor Balaji Srinivasan, formerly Coinbase's CTO and general partner at Andreessen Horowitz, commented:
We have laser-eyed mayors, congressmen, senators, billionaires, and actors. Now we have the greatest quarterback of all time. Bitcoin has only two more levels left: the first laser-eyed central banker, and the first laser-eyed head of state.
The seven-time Super Bowl champion is also planning to launch a non-fungible token (NFT) platform called Autograph this spring, CNN reported last month. Autograph will also produce NFT's featuring Brady.
A growing number of professional athletes are asking to be paid in bitcoin. Russell Okung, who famously said "pay me in bitcoin" and then opted to convert half of his $13-million salary to BTC, wrote: "Looks like Tom Brady is the tipping point. So many athletes are hitting me about bitcoin and crypto, I'm doing calls every day. I love it but I need to find a better way to automate."
Early this month, the number one NFL draft pick, Trevor Lawrence, put his signing bonus in cryptocurrencies, estimated to be worth $24 million. In April, Sean Culkin, a tight end for the Kansas City Chiefs, said he would take his 2021 salary in bitcoin. In addition, the Sacramento Kings, an American professional basketball team, said it will offer everyone in its organization the option of getting their salary paid in bitcoin.
Do you think Tom Brady is loading up on bitcoin? Let us know in the comments section below.
Image Credits: Shutterstock, Pixabay, Wiki Commons