Avalanche Web Wallet Stalls For 6 Hours After Avalaunch Airdrop Snapshot – Altcoins Bitcoin News
The Avalanche cryptocurrency, the first cryptocurrency ever to implement the Avalanche consensus, experienced an outage of service yesterday when its web wallet presented an outage that lasted for six hours. This was the consequence of severe congestion due to an airdrop carried out by AvaLaunch, leaving users without control of their funds for this period.
Avalanche Web Wallet Stalls After Avalaunch Airdrop
The Avalanche Web Web Wallet, the official wallet for the AVAX cryptocurrency, experienced an outage yesterday that left customers without control of their tokens for six hours. According to official reports taken from status.avax.network, the page that monitors the state of every component of the Avalanche network, the outage started at 18:05 UTC, when web wallet nodes started experiencing a sharp uptick in API traffic.
After some users complained about not being able to see access funds in the wallet, it was taken into maintenance mode at 18:4 UTC due to:
degraded performance for some users accessing the API nodes directly (api.avax.network) and for users accessing the API nodes indirectly (through wallet.avax.network).
The issue is believed to have been caused by an airdrop carried out by Avalaunch, a launchpad for tokens in the Avalanche network that would deliver XAVA (its official token) to validators and delegators staking AVAX. The team announced the time for the airdrop snapshot in advance on a medium article, hat caused users to hurry up to stake or validate tokens to be also part of the giveaway, derivating in these issues.
In another cryptocurrency environment, the failure of a single wallet is not a cause for concern, since there is a myriad of options for uses to manage their funds at any given time. However, the Avalanche blockchain relies only on this web wallet to serve the totality of its users, and while some other wallets have been proposed, there are still no usable alternatives at the moment.
The incident was resolved on May 4, 02:29 UTC when the wallet team implemented a fix and rolled it out progressively. In spite of this fix, Binance has halted withdrawals for the currency at the time of writing.
Not the First Bump in the Road
This has not been the first problem that has affected the Avalanche network in a significant way. Back in February, part of the network was practically halted due to a heavy load on the systems managing a cross-chain bridge when the Pangolin exchange, the first decentralized exchange on the blockchain, was launched.
The bug triggered an invalid mint of tokens in one of the chains and prevented users from accessing and transacting their funds for more than 30 hours.
What do you think about the problems with the Avalanche Web Wallet? Let us know in the comments section below.
Image Credits: Shutterstock, Pixabay, Wiki Commons
Neironix – Rating analytical agency
© 2021 "Neironix.io" network edition. Founders: Мараховка А.В.,
Венгерец А.В.,
Худяков Э.А.,
Ахмиджанов Д.Р.,
Чичеров А.В.
Certificate of registration of mass media: ЭЛ № ФС 77 – 77144 by 08.11.2019.
Issued by the Federal service for supervision of communications, information technology and mass communications.
Editor-in-chief: Худяков Э.А, e-mail address: Ie@neironix.io,
editorial phone: +79825071222. 18+
Whales are Depositing Bitcoin on Crypto Exchanges – What This Means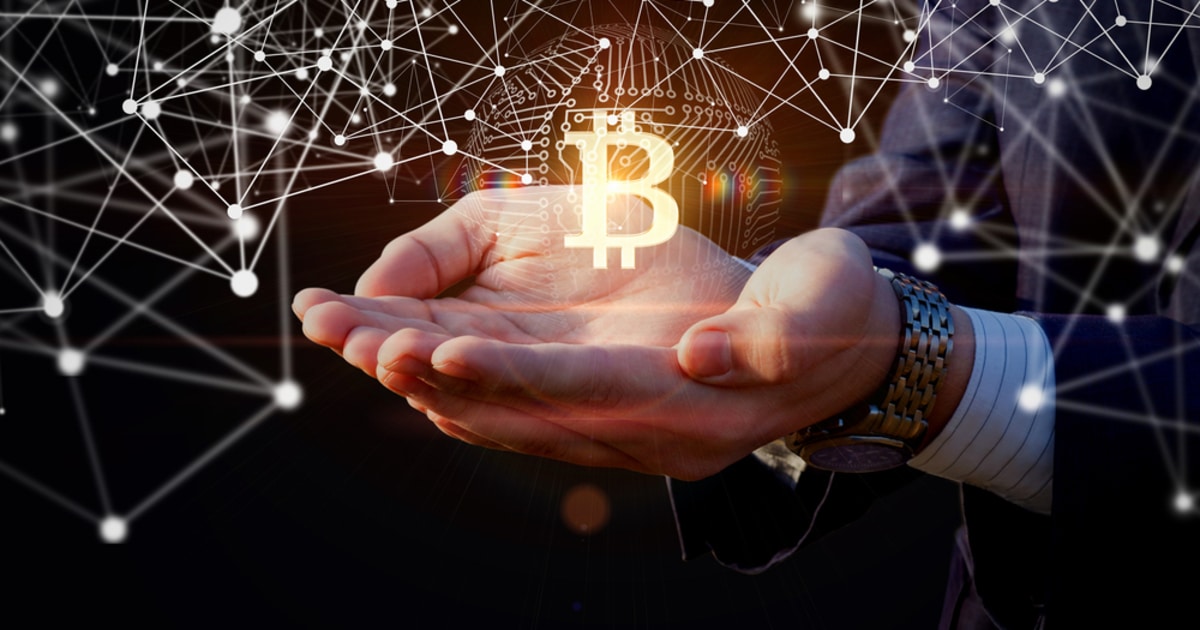 Bitcoin (BTC) is struggling to maintain above $50K. Currently, at the time of writing, it is trading at around $45K. The top cryptocurrency nosedived by almost $10,000, going from $55K to $46K last week as Tesla's CEO Elon Musk revealed that the firm will no longer accept BTC payments.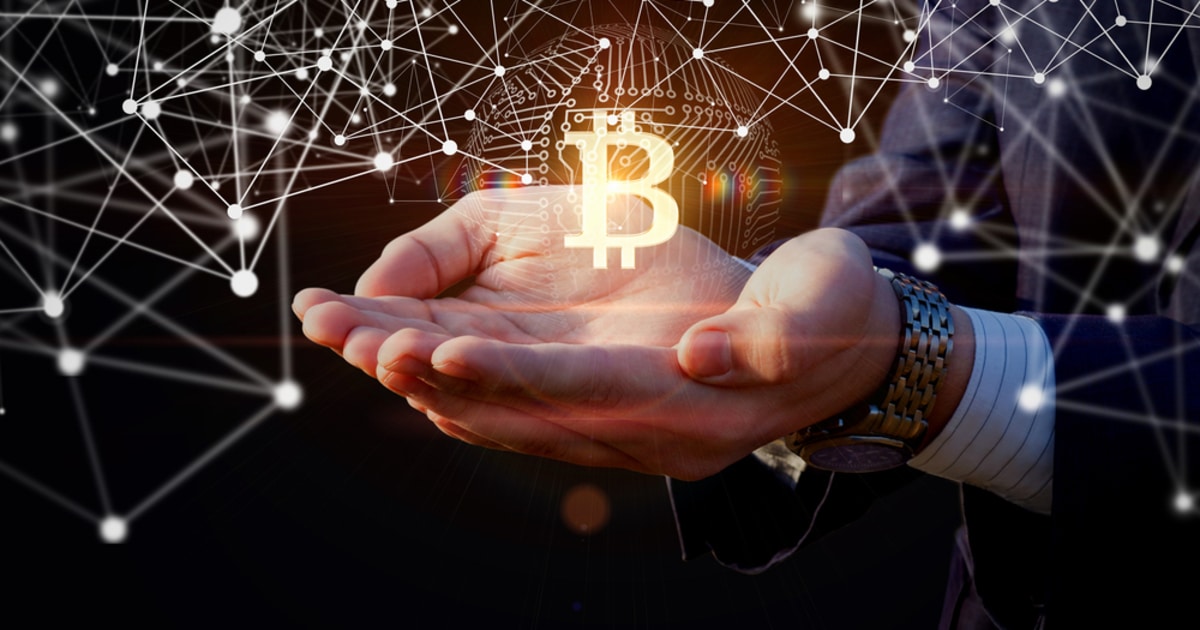 Tesla attributed this to the "rapidly increasing use of fossil fuels for Bitcoin Mining and transactions, especially coal, which has the worst emissions of any fuel."
Ki Young Ju, the CEO of on-chain analytic firm CryptoQuant, has revealed that whales are depositing Bitcoin on exchanges. He explained:
"If you're a long-term BTC investor, don't worry. Your portfolio is the same as institutional investors in the States. If you're a derivative trader, be careful in the short term. (Relatively speaking) whales are depositing BTC to exchanges."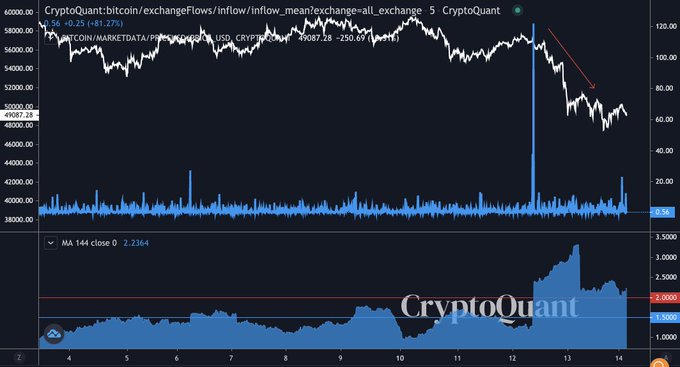 Whales usually remit Bitcoin on exchanges to cash in profits, and this may cause selling pressure. As a result, this will drive the price down. 
IntoTheBlock also acknowledged massive Bitcoin inflow into centralized exchanges. The crypto data provider noted:
"ITB Netflows indicator detected the second-largest BTC inflow into centralized exchanges in >15 months of 24.84k BTC."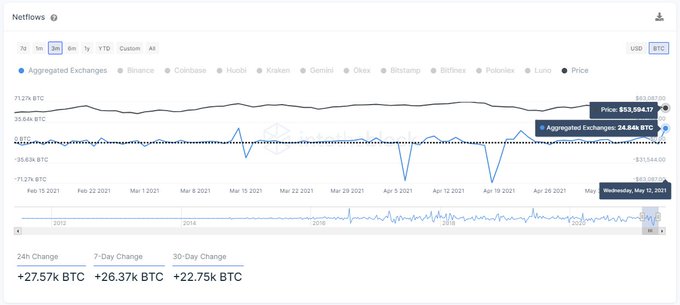 Hodlers stored more than 8% of Bitcoin's circulating supply
According to on-chain data provider Glassnode:
"Bitcoin HODLers today actually hold +8% more of the circulating supply in dormant wallets."
It, therefore, shows that hodlers or holders continue accumulating more BTC even as prices are dipping for long-term objectives. 
For instance, leading American business intelligence firm MicroStrategy ramped up its Bitcoin investment by purchasing an additional 271 BTC for $15 million.
In other news, Bitcoin mining difficulty recently rose to a 7-year high of 21.5%. 
The level of Mining Difficulty is determined by the amount of computing power consumed by the BTC network and is measured by hashrate. This measure allows computers to process and resolve problems that would enable transactions to be approved and confirmed across the network.
Image source: Shutterstock
Neironix – Rating analytical agency
© 2021 "Neironix.io" network edition. Founders: Мараховка А.В.,
Венгерец А.В.,
Худяков Э.А.,
Ахмиджанов Д.Р.,
Чичеров А.В.
Certificate of registration of mass media: ЭЛ № ФС 77 – 77144 by 08.11.2019.
Issued by the Federal service for supervision of communications, information technology and mass communications.
Editor-in-chief: Худяков Э.А, e-mail address: Ie@neironix.io,
editorial phone: +79825071222. 18+