Pro traders buy the Bitcoin price dip while retail investors chase altcoins
Bitcoin (BTC) has been struggling to sustain the $55,000 support level for the past 16 days, or basically since the April 17 record-high $5 billion long contracts liquidation. The rejection that took place after the $64,900 all-time high had a devastating impact on the sentiment of retail traders, as measured by the perpetual futures funding rate significant drop.
However, despite Bitcoin's recent underperformance and today's 6.5% drop, pro traders have been buying the dip for the past 24 hours. These whales and arbitrage desk movements are reflected in the OKEx futures long-to-short ratio, as well as Bitfinex's margin lending markets. As this buying occurs, retail traders are mainly quiet, which is reflected in the neutral perpetual funding rate.
As depicted above, the perpetual futures (inverse swaps) 8-hour funding rate has been below 0.05% for the past couple of weeks. For the end-of-month contracts, prices vastly differ from regular spot exchanges, reflecting the imbalance from longs and shorts leverage.
This discrepancy is why retail traders tend to prefer perpetual futures, albeit with the varying carry cost caused by the funding rate changes.
The current 8-hour fee is equivalent to a 1% weekly rate, signaling a slight imbalance on longs. However, this level is well below the 0.10% and higher rates seen in early April. This data is clear evidence that retail traders aren't comfortable adding Bitcoin long positions despite the 9% correction in two days.
On the other hand, the top traders' long-to-short indicator reached its highest level in 30 days, signaling buying activity from whales and arbitrage desks. This indicator is calculated by analyzing the client's consolidated position on the spot, perpetual and futures contracts. As a result, it gives a clearer view of whether professional traders are leaning bullish or bearish.
As shown above, the current OKEx futures long-to-short ratio currently favors longs by 94%. This buying activity was initiated in the early hours of May 4, as Bitcoin broke below $55,000. More importantly, it signals even more confidence than April 14, when BTC hiked to its $64,900 all-time high.
However, to confirm whether this movement is widespread, one should also evaluate margin markets. For example, the leading exchange (Bitfinex) holds over $1.8 billion worth of leveraged Bitcoin positions.
Bitfinex shows spectacular growth in the BTC margin markets with longs over 50x the amount borrowed by shorts. These levels are unprecedented in the exchange's history and confirm the data from OKEx's futures markets.
There's no doubt that professional traders are ultra-bullish despite today's Bitcoin dip. As for the lack of appetite from retail traders, their focus seems to be currently on altcoins.
Currently, 18 of the top 50 altcoins have rallied 45% or higher in the past 30 days.
The question is, can the altcoin rally continue if BTC fails to produce a new all-time high over the next couple of weeks?
The views and opinions expressed here are solely those of the author and do not necessarily reflect the views of Cointelegraph. Every investment and trading move involves risk. You should conduct your own research when making a decision.
Japanese Assembly Members Seek to Make Tokyo a 'Cryptocurrency Trading Center' – Economics Bitcoin News
Japan is steadily becoming an area of interest for the cryptocurrency industry, and a politician in the capital city is looking to strengthen the trend. A member of the Tokyo Metropolitan Assembly wants to transform the Japanese capital into a "trading center" for cryptos.
Blockchain as a 'Growth Strategy' to Create Industry Hub
Yuu Ito, the third term assembly member in question, commented about the possibility of bolstering the city's financial sector by increasing its involvement with the digital asset business.
The statement comes after his recent support of economic plans unveiled by Yuriko Koike, governor of Tokyo. Ito also pointed out challenges Tokyo faces in order to compete with other major financial hubs, like London, Macau, and Hong Kong. He believes high rates in bitcoin (BTC) tax might have deterred investors and companies from being active in Japan, and that significant action is necessary to advance the industry domestically.
Nobuko Irie, a fellow Tokyo Metropolitan Assembly member, commented in a similar vein:
The country is printing deficit-financing bonds in the wake of the corona. Even in Tokyo, we must create new financial resources by setting technology that can generate wealth like blockchain as a growth strategy.
Guaranteeing a Healthy Taxation Environment for Bitcoin
She praised how bitcoin adoption has been skyrocketing globally, but raised concerns on how politicians are handling the matter. Here she urgently describes necessary action for Tokyo to become a cryptocurrency trading center:
Politicians should now tackle the issues of monetary policy and taxation around bitcoin. If you do it in the nation, you will lose the sense of speed, so create a special zone in Tokyo to use it tax-free in the city. I think it is the role of politicians to identify issues and clear them systematically while running.
Irie also highlighted the coronavirus as an opportunity to accelerate policy adaptations adoption while creating a healthy environment to develop a crypto trading hub in Tokyo:
When we have to turn the economy around, we need to create a mechanism that prevents money from staying. For that purpose, virtual currency and blockchain can be used. Based on the fact that I learned this time, I think it is necessary to accelerate.
What are your thoughts on the plans proposed by the Tokyo assembly members? Let us know in the comments section below.
Image Credits: Shutterstock, Pixabay, Wiki Commons
Ether balances on centralized exchanges fall to lowest level since June 2019
According to analysis from on-chain analytics provider Glassnode, the sum of Ethereum on exchanges has fallen to its lowest level for almost two years.
Glassnode estimates that just 13.3 million Ether is currently held on centralized exchanges, the lowest it has been since June 2019. As such, centralized platforms hold roughly $52.4 billion worth of ETH or 11.5% of Ethereum's entire supply.
#Ethereum $ETH Balance on Exchanges just reached a 23-month low of 13,384,235.936 ETH

View metric:https://t.co/1dCpD2ey8E pic.twitter.com/FGZHqXr3Pa

— glassnode alerts (@glassnodealerts) May 10, 2021
The number of Ether on centralized exchanges has fallen 30% in 9 months since peaking at 19 million ETH during September 2020.
A low balance of ETH on exchanges is typically understood to be bullish for the markets as it drives a reduction in supply relative to demand on popular trading platforms. Dwindling exchange balances suggest long-term investors are moving their assets into secure storage or locking their funds up to earn yields through decentralized finance protocols or staking.
In its Monday "Week on Chain" report, the data provider also noted that there has been some reduction in exposure to Bitcoin in favour of Ethereum.
Glassnode correlated the spending behavior of reasonably old Bitcoin unspent transaction outputs of between 6 months and 3 years, finding evidence that long-term investors could have been recently flipping into ETH:
"Whilst this is only an empirical observation (correlation <> causation), the distinct increase in these older BTC being spent back into circulation after a prolonged period of holding makes a compelling case."
The report added that on-chain activity has increased significantly over the past four weeks for Ethereum amid Ether's recent bullish price action. The total number of smart contract calls, Uniswap transactions, and daily transactions, have all seen notable upticks since the beginning of the year.
Daily transactions hit an all-time high of 1.63 million this week, representing a 22.5% increase over December 2017's previous peak.
At the time of writing, Ethereum prices were trading at just below $3,900 — cooling from their recent all-time high of $4,220 on May 10.
TA: Bitcoin Fails Again, Here's Why BTC Remains At Risk of More Losses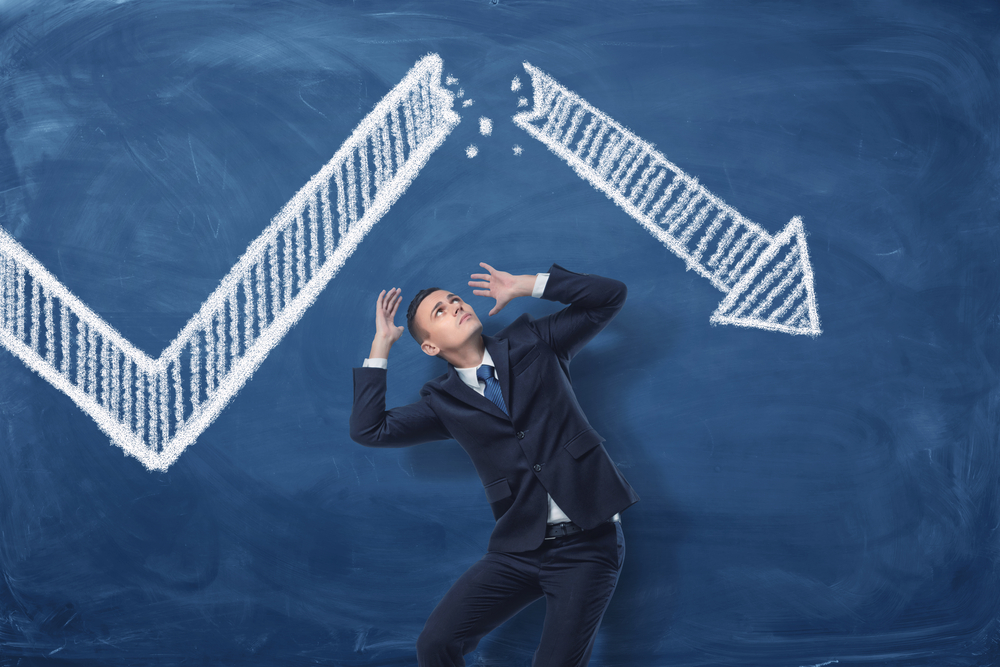 Bitcoin price failed once again to clear the $60,000 resistance zone against the US Dollar. BTC is showing a few bearish signs, but the $52,500 support holds the key.
Bitcoin failed to gain pace above $59,500 and it even struggled to test $60,000.
The price is now trading near the $55,500 support and the 100 simple moving average (H4).
There was a break below a key contracting triangle with support near $58,000 on the 4-hours chart of the BTC/USD pair (data feed from Kraken).
The pair is recovering losses, but it is facing a strong resistance near $57,000.
Bitcoin Price Trims Gains
Bitcoin cleared the $58,800 and $59,000 resistance levels. It even spiked above $59,500 level, but there was no follow through move. It struggled to even test the $60,000 resistance zone.
As a result, there was a bearish reaction below the $58,500 and $58,000 support levels. There was also a break below a key contracting triangle with support near $58,000 on the 4-hours chart of the BTC/USD pair. The pair dived below the $55,500 level and the 100 simple moving average (H4).
It traded as low as $53,445 and it is currently correcting losses. There was a break above the $54,000 and $54,500 levels. Bitcoin even climbed above the 23.6% Fib retracement level of the recent drop from the $59,590 high to $53,445 low.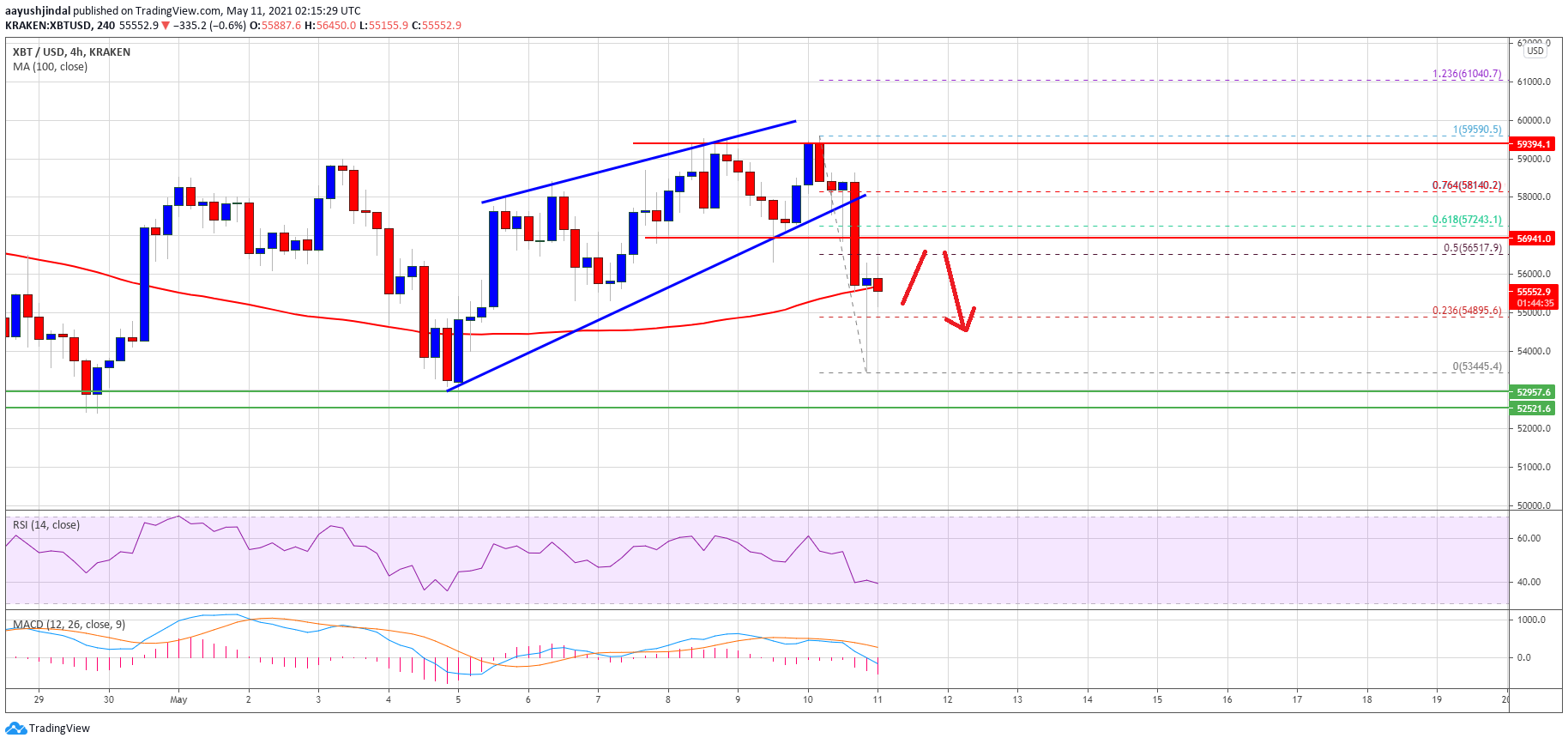 Source: BTCUSD on TradingView.com
The price is now trading near the $55,500 support and the 100 simple moving average (H4). An initial resistance is near the $56,500 level. It is close to the 50% Fib retracement level of the recent drop from the $59,590 high to $53,445 low.
The key resistance is now near the $57,000 level. A successful break above the $57,000 level is needed to start a fresh increase towards the $59,500 resistance zone in the near term.
More Losses in BTC?
If bitcoin fails to clear the $56,500 resistance or $57,000, it could extend its decline. An initial support on the downside is near the $54,500 level.
The first key support is near the $53,500 level and the recent low. Any more losses might call for a test of the main $52,500 support zone.
Technical indicators:
4-hours MACD – The MACD is slowly losing pace in the bearish zone.
4-hours RSI (Relative Strength Index) – The RSI for BTC/USD is now close to the 40 level.
Major Support Levels – $54,500, followed by $53,500.
Major Resistance Levels – $56,500, $57,000 and $59,500.