This Analyst Predicts Massive Litecoin Rally In Bitcoin Pair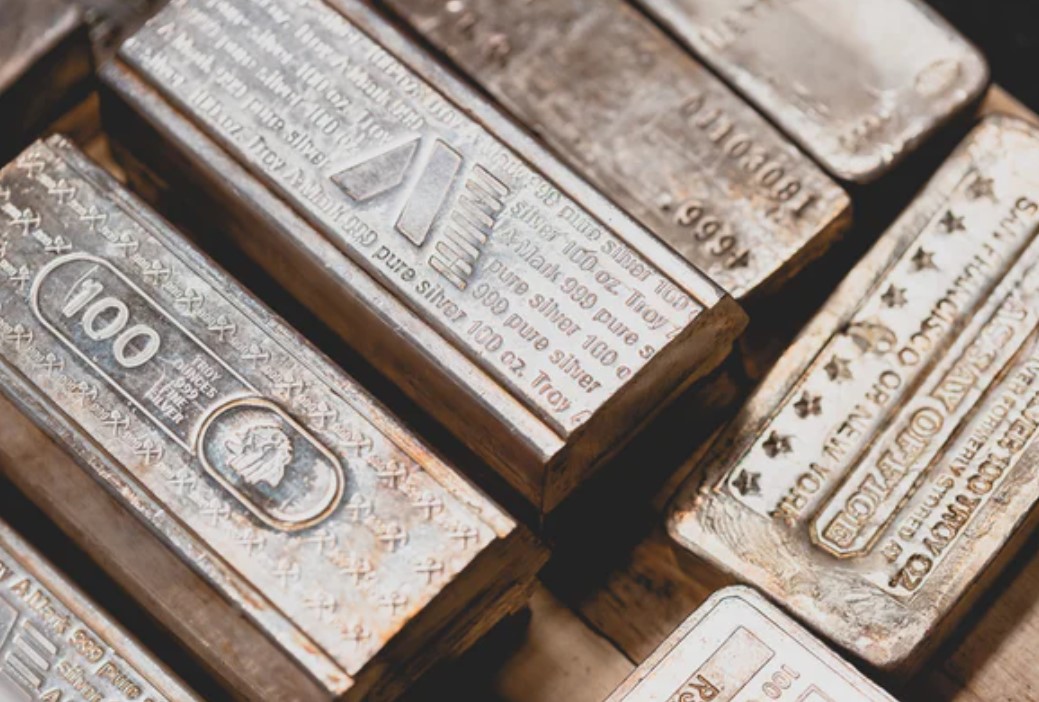 Litecoin goes against the general market sentiment with a 24.5% and 57% rally in the higher timeframes. At the time of writing, LTC trades at $316 with 4.8% profits in the daily chart.
Anonymous trader Julio_LTC has set support for LTC at $280 with a price target set at $330. The operator is bullish as LTC climbed in the Relative Strength Index (RSI), a measure used to assess price momentum, in the lower timeframes. If the price action gets invalidated $218 could operate as critical support, as shown below.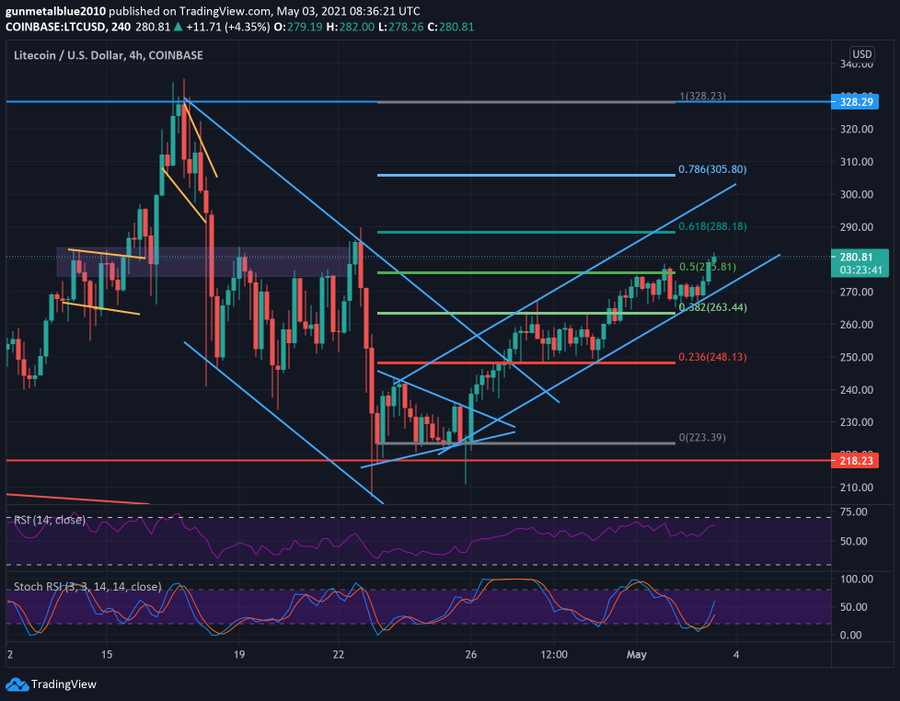 LTC seems to be correlated with Ethereum's performance rather than Bitcoin, as usual, according to the trader. Therefore, Litecoin's rally could experience a cool-off or further appreciation if ETH leads the price action. If LTC hits its target, it could see stronger momentum towards a higher price. The trader added:
I dont believe we'll see $7000+ this year but I do believe $LTC can go into the $3000-$5000 range. #LTC is a late game player.
Trader Crypto Tony is equally bullish after LTC broke the $289 resistance. The trader said:
Litecoin is going to run so hard it is going to mentally affect those left behind. Bags are packed and ready for launch. The BTC pair tells a story and I want us all to be a part of that story
Litecoin's Fundamental Signal Potential Bullish Momentum
Data from Glassnode indicates that Litecoin has reached a 3-year high Realized Price at $129.65. Similarly, LTC's Realized Market Capitalization stood at an all-time high with $8,7 billion.
📈 $LTC Realized Price just reached a 3-year high of $129.65

View metric:https://t.co/jC3fFKAnR2 pic.twitter.com/xjYBplqkjP

— glassnode alerts (@glassnodealerts) May 4, 2021
On-chain activity has been showing ambiguous signs with Litecoin's network transaction volume at a 4-month low of 359,724 LTC. However, the number of Receiving Addresses reached a 1-month high at May 3rd, with 12,771 addresses.
📉 $LTC Transaction Volume (7d MA) just reached a 4-month low of 359,724.204 LTC

View metric:https://t.co/KXefSK4Tsl pic.twitter.com/FTMVDsRauP

— glassnode alerts (@glassnodealerts) May 4, 2021
Additional data provided by IntoTheBlock with their In/Out of the Money Around Price (IOMAP), an indicator to visualized clusters of Litecoin's price distribution, records potential price support at $259 and $269 with over 5.96 million LTC bought by 103,000 addresses around these levels.
As the chart shows, if LTC rallies there could be major resistance at $314 to $322, $332, and $340. As mentioned, investors should keep a close eye on ETH's performance for a potential breakout. At the moment, Ethereum's rally seems to be cooling off but holds potential for another leg-up.
Moneygram Lets Customers Buy and Sell Bitcoin With Cash at 12,000 Locations – Featured Bitcoin News
Moneygram will start letting customers buy and sell bitcoin at 12,000 locations, thanks to a partnership with Coinme. The collaboration "will bring bitcoin to thousands of new point-of-sale locations in the U.S. with plans to expand to select international markets in the second half of 2021," the companies say.
Bitcoin at Moneygram Locations
Moneygram International Inc. and Coinme, a licensed crypto-to-cash exchange in the U.S., announced Wednesday the "launch of a new partnership to enable the cash funding and payout of digital currency purchases and sales."
A global leader in cross-border P2P payments and money transfers, Moneygram serves nearly 150 million people across the globe over the last five years. Coinme is a crypto exchange and ATM operator that currently powers over 20,000 physical locations to buy and sell bitcoin using cash through partnerships with Coinstar and Moneygram.
The collaboration "will bring bitcoin to thousands of new point-of-sale locations in the U.S., with plans to expand to select international markets in the second half of 2021," the companies detailed. The new service will create "global cash on and off-ramps" to "ensure access to bitcoin."
According to the announcement:
The Moneygram and Coinme integration will provide a fast and easy way for customers to purchase bitcoin with cash and withdraw bitcoin holdings in cash.
Initially, the service will be available at select Moneygram locations in the U.S. in the coming weeks. However, the companies plan to add more countries and cryptocurrencies shortly thereafter. According to Coinme's website, the service is "available at 12,000 Moneygram locations."
The companies noted that the new service "is specially designed for customers who may be interested in utilizing bitcoin for the first time."
Alex Holmes, Moneygram's CEO, opined:
This innovative partnership opens our business to an entirely new customer segment as we are the first to pioneer a crypto-to-cash model by building a bridge with Coinme to connect bitcoin to local fiat currency.
What do you think about Moneygram's new bitcoin service? Let us know in the comments section below.
Image Credits: Shutterstock, Pixabay, Wiki Commons
Bitcoin car will race at the Indianapolis 500
A car and driver branded with the Bitcoin logo will be racing in circles against 32 others in this month's Indianapolis 500.
According to a blog post from Zap CEO Jack Mallers, U.S. racing driver Ed Carpenter will be in control of the "orange-spotted, Bitcoin-covered, engineering beast" scheduled to appear at the Indy 500 on May 30. Carpenter, who became a Bitcoiner over the last year, reportedly forfeited all traditional sponsors in favor of driving the Bitcoin (BTC) car, #21 in the event.
"I don't want to race for chips or beer this year," said Carpenter. "I've worked my entire life to race at the Indy 500 and have earned the platform that I have, and this year, I want to find a way to incorporate Bitcoin."
Mallers and the racecar driver are continuing to raise donations from crypto enthusiasts and plan to use 70% of all proceeds to fund open-source Bitcoin development, with the remaining used to fund the Bitcoin car and for Indianapolis charities. Ross Stevens, executive chair of New York Digital Investment Group, reportedly pitched in $250,000, with Mallers contributing $25,000 and his Strike payments and remittances app donating $100,000. Other notable contributors include Anthony 'Pomp' Pompliano, NFL star Russell Okung, and Peter McCormack, host of the What Bitcoin Did podcast.
"This isn't the Strike car, the Coinbase car, the Kraken car […] this is the Bitcoin car," said Mallers. "In a world of potato chip and energy drinks sponsors, Ed chose to race for human freedom, financial literacy, financial inclusivity, savings technology, and Bitcoin open-source development."
Crypto has found its way into racing events before. Last year, a Cash App car driven by Darrell 'Bubba' Wallace, featured the iconic BTC logo in NASCAR's top racing series. In addition, Crypto.com partnered with Aston Martin to sponsor the car manufacturer's Formula 1 team.
Ethereum price aims for $5K after reaching 3-year high versus Bitcoin
Ether (ETH) set a second all-time high on May 12 as the largest altcoin continued on its way to what analysts say will be $5,000.
Funding rates could hold key to ETH resilience
Data from Cointelegraph Markets Pro and TradingView tracked ETH/USD as the pair put in two all-time highs in a single day on Wednesday.
Part of the now notorious "alt season 2.0," Ether hit $4,350 earlier on the day, only to better its performance hours later and reach $4,380.
Now under 15% away from $5,000, multiple commentators' forecasts of Ethereum's native token hitting the landmark price level are in the spotlight. 
Among them is that of Cointelegraph contributor Marcel Pechman, who in an interview last week highlighted data which suggested that a $5,000 ETH was a matter of "if," not "when."
Pechman said that funding rates had yet to catch up with price gains, and thus retail investors were waiting on the sidelines at price levels around $3,500. Institutions, however, were more active.
"It tells me that pro traders have been bullish for quite some time — for a couple of weeks — but the retail traders are still waiting for a buy opportunity," he summarized
Since then, funding rates have increased only modestly, indicating that the market trajectory has even more room to continue. 
As Pechman and Cointelegraph noted, exchange balances of ETH are likewise falling despite the opportunity to realize profits. 
ETH/BTC still needs to double
Part of their resilience may lie in entering trades long ago. Those using Bitcoin (BTC) to buy ETH at any time since mid June 2018 remained in the red at the time of writing — the ETH/BTC pair still had far to go to match its all-time highs.
These were set a year earlier in June 2017 at 0.144 BTC. Wednesday's USD high corresponded to 1 ETH being worth a comparatively modest 0.077 BTC. 
ETH is now ~0.08 BTC and might even pump to 2017 peak levels of 0.12 BTC. But beware that after a pump altcoins frequently return to their normal BTC denominated ranges (or lower). #Cointegration #PairsTrading pic.twitter.com/fk36Yq6EcE

— PlanB (@100trillionUSD) May 12, 2021
Ethereum has nonetheless outperformed Bitcoin with its gains throughout the past year, leading to increasing attention from mainstream sources, several of which have begun to school readers on the differences between the two largest cryptocurrencies.