Want to Buy a Banksy With Bitcoin? Sotherby's Says Yes
Fine arts dealer Sotheby's is now accepting Bitcoin and Ether as payment methods. The first offering to test the response is Banksy's Love is in the Air, which depicts a masked man throwing flowers.
This is made possible by partnering with Coinbase, which has set up a bespoke solution to enable this. Stefan Pepe, Sotheby's Chief Technology Officer, said, by doing this, the firm is enhancing the client experience and appealing to a whole new clientele as well. The move represents another step towards cryptocurrency going mainstream.
"Leveraging the trusted exchange Coinbase is a natural progression and is in line with our dedication to enhancing our client buying experience and developing new ways to expand our client base by meeting them where they are."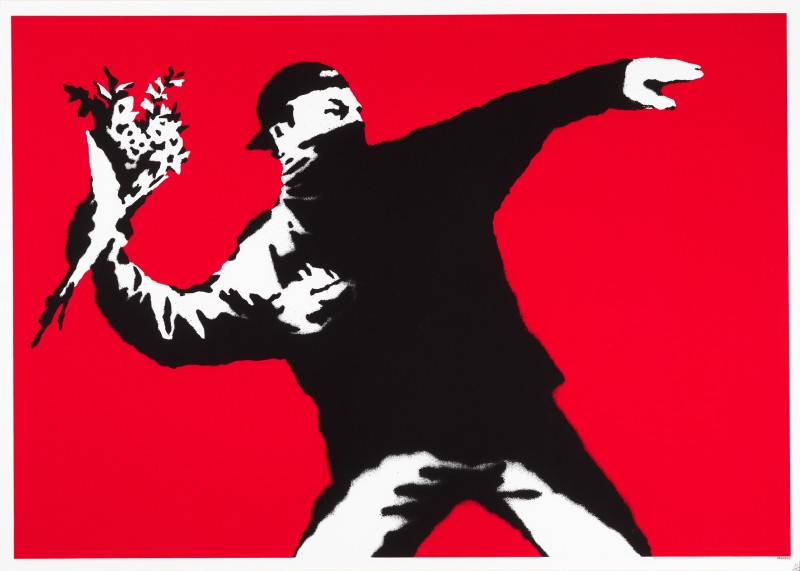 Source: sothebys.com
Bitcoin as a Payment Method
Speaking to CNBC, CEO of Sotheby's Charles Stewart said accepting cryptocurrencies is something the firm has been thinking about for a while now.
Stewart mentioned that the positive response to its recent Pak NFT auction, which netted a total of $16.8 million, gave the incentive to explore accepting cryptocurrency for physical art.
"This will be the first time cryptocurrency will be accepted as payment for physical artwork. We're really excited to make this happen. It's something we've been thinking about for quite some time. You may recall we had our first NFT sale a few weeks back. We had over 3,000 bidders and participants in that sales series."
The first piece to test the waters will be Banksy's Love is in the Air. Stewart said buyers can pay cash as well if they wish. He estimates the piece to net between $3-$5 million.
"Banksy has been, as you might be well aware, a very popular artist at auction. And there's a lot of interest in his work, paying with physical money as well. But what better combination to introduce crypto than an iconic Banksy painting?"
Bitcoin-bull Anthony Pompliano chimed in by saying soon, every company will accept the currency of the future rather than cash.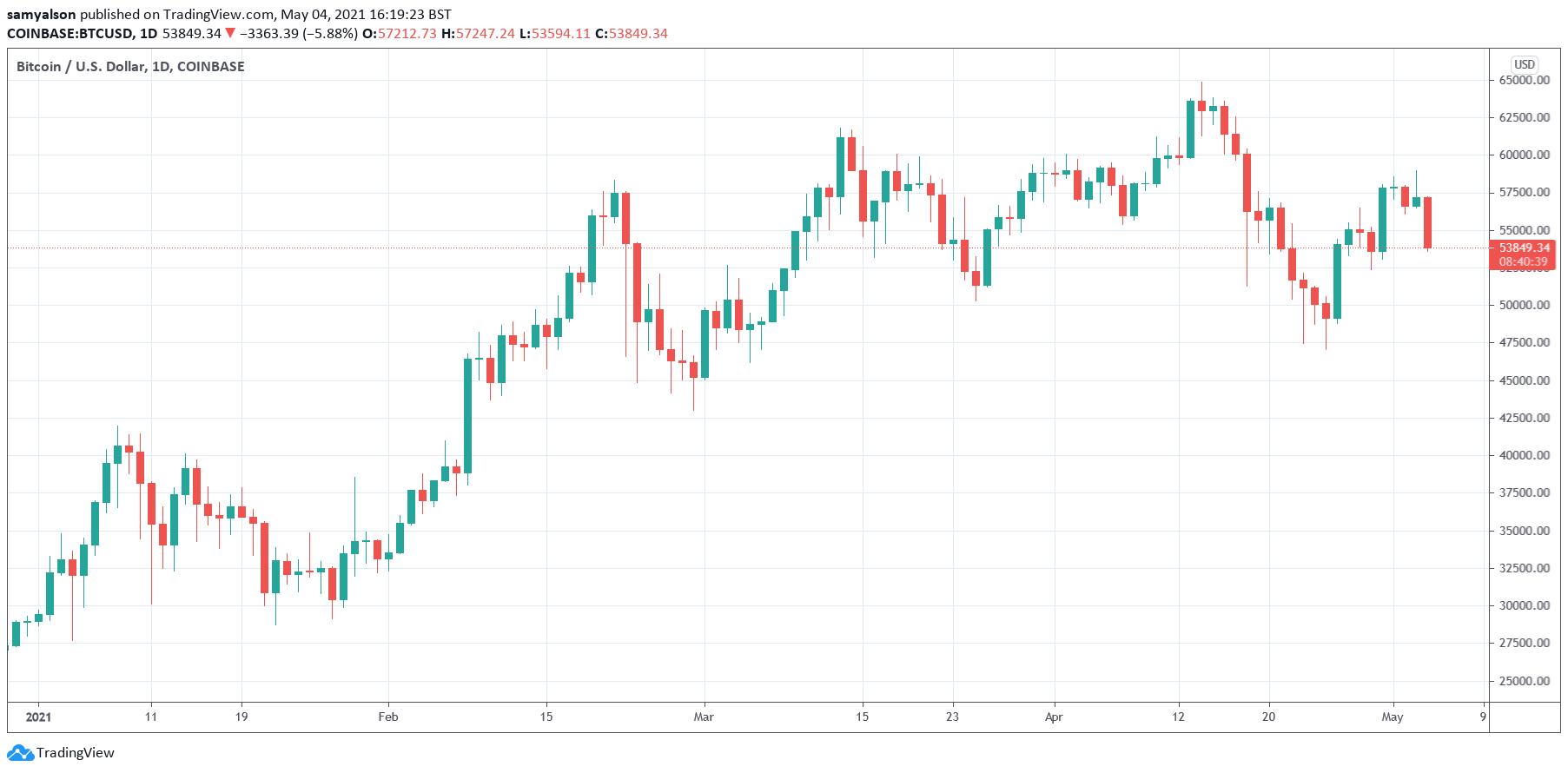 Source: BTCUSD on TradingView.com
Banksy's Message
Banksy is a pseudonymous street artist whose real identity remains unconfirmed and the subject of much speculation.
He came to prominence during the 1990s and follows a subversive, satirical style that expresses anti-war and anti-authoritarian themes. His artworks are publically displayed, such as on walls or repurposed prop pieces. These are often resold, which involves the removal of walls in most cases.
The artist unofficially sells a limited run of pieces through an agency called Pest Control.
Balancer protocol launches version 2 of its automated market maker
Balancer, a leading automated market maker, has launched version 2 of its protocol, promising faster speed, lower costs and improved liquidity. 
In addition to revamping the user interface, Balancer's backend will provide more efficient routing for trades through "Protocol Vault." The platform claims that this upgrade will reduce gas costs and produce better pricing mechanisms.
Expected gas costs are said to be 40% lower in version 2 – a figure that jumps to 53% with internal balances.
Balancer Labs, the development arm behind the AMM, also announced a partnership with DeFi protocol Gnosis to deliver an enhanced user experience to traders across price, user experience and transparency.
Automated market makers are essentially smart contracts that generate a liquidity pool of tokens, which are traded automatically through a programmable algorithm as opposed to an order book. This allows assets to be swapped automatically.
AMMs are part of the rapidly growing DeFi industry which, according to industry estimates, has grown eightfold since the start of 2021. The DeFi space has locked in more than $160 billion in assets as of Tuesday.
Balancer's native BAL token has set multiple record highs this year on the back of positive protocol integrations, gas fee reimbursements and a surge in DeFi trading activity. Buzz surrounding a possible Coinbase listing has also contributed to BAL's tremendous growth.
The price of BAL was little changed at $67 on Tuesday for a total market capitalization of $722 million. BAL is the 31st largest DeFi protocol by market cap, according to Coingecko.
Tezos' sixth protocol upgrade brings more optimization as 'Florence' goes live » CryptoNinjas
It seems like only yesterday that Tezos underwent its fifth upgrade (codenamed Edo), which added some significant features to the ever-evolving platform such as Tickets, the Adoption Period, and Sapling.
Merely 3 months after this milestone, the Tezos network has adopted its sixth upgrade, named Florence after the iconic city in Italy. So what does this upgrade bring to the rapidly evolving Tezos blockchain?
Let's dig into it.
Just as Edo brought on several feature upgrades and refinements, Florence continues the strong track record of optimizations and refinements that has made Tezos synonymous with rapid evolution that can absorb the latest and greatest features in the space.
Before we dive deeper into Florence, let's also take a moment to look at the exponential growth in network activity that it has experienced over the past few months; this exponential growth was really catalyzed in the Delphi release, which switched to a rapid release model and included changes that allowed smart contract activity to be more viable. The resulting subsequent activity illustrates how effective this has been for the Tezos ecosystem overall.
The network activity has surpassed >1M contract calls in one month, indicating rapidly growing interest; and engagement with the Tezos ecosystem tools and projects.
Of these, NFT-focused projects like Hic et Nunc and Kalamint are helping fuel this growth as artists of all genres discover the Tezos alternative for their NFT needs.
Tezos provides a high-performance, rapidly evolving, and low carbon footprint platform that vastly outshines its competitors. Neither the growth nor the advantages that Tezos currently possesses are an accident — these are by design, further facilitated by its ability to rapidly evolve and upgrade.
Florence
Just as Florence, the city, found itself at the nexus of the Renaissance with architecture, art, literature, mathematics, music, philosophy, politics, religion, and science all converging into a creative melting pot, so does Florence, the protocol upgrade.
We mean this in the very literal sense — this protocol upgrade comes at a time where artists, programmers, scientists, entertainers, architects, brands and more are discovering NFTs, and blockchain by proxy. The resulting experiences and interactions are akin to that of a true digital renaissance.
In this sixth protocol upgrade, Florence brings the following improvements:
Twice the Maximum Operation Size — with this update, the maximum size of operations is doubled, which results in more than doubling the maximum size of a smart contract. This is particularly attractive to developers who are working on complicated applications that require such smart contract sizes.
Gas Optimizations — In Florence, running more complex smart contracts at lower costs is possible due to the gas optimizations that have taken place. Overall, the gas arithmetic is also sped up by a factor of ten, increasing the overall performance of a typical execution cycle of the Michelson interpreter in Florence by 35%. This allows for smart contracts with more complicated functionality to operate even more economically.
More Intuitive Smart Contract Development — With Florence, it is easier than ever for developers to write complicated systems of smart contracts without worrying about them behaving in unexpected ways. This is because Florence changes the applied order of inter-contract calls emitted by smart contracts to a depth-first execution order which is far more intuitive to most developers.
More Reliable Amendment Process — Florence deactivates the Test Chain feature in the Economic Protocol, which was in practice never used, unnecessarily complicated, and resulted in reliability issues. With this change, the amendment process becomes more streamlined and trouble-free.
Tezos' rapid pace of development and evolution supports the rapid expansion of activity on the network, ensuring the platform is optimized, reliable, and full-featured.
Florence once again showcases Tezos' careful design, combined with its proven on-chain governance model and self-amendment mechanism, make Tezos the best blockchain in the world.
Viva Firenze!
To learn more about Florence and the various optimizations it brings to Tezos, head over to Tezos Agora.
Published by the team of TQ Tezos, a builder of products, open-source software, and other public goods for the Tezos ecosystem.
Digital Yuan Trial Hotspot Not Seeing Wide Acceptance, Claims Report – Altcoins Bitcoin News
With digital yuan pilots underway in China, it seems the currency is not meeting government expectations. A recent report highlighted a series of interviews from people in the hotspot, reflecting a lackluster reception among the participants.
Privacy Concerns Reported
According to Bloomberg, residents in Shenzhen, the Chinese analog to Silicon Valley, have shown little interest in the central bank's digital currency (CBDC), primarily citing privacy and surveillance concerns.
The People's Bank of China (PBoC), the country's central bank, has been accelerating the pilots to prepare the digital yuan for the 2022 Winter Olympic Games. People have been hesitant to switch from existing mobile payment solutions, showing an attachment to WeChat and Alipay. One participant in the 500,000 person pilot sample told Bloomberg she was "not at all excited" to be included. Another worried the pilot would allow authorities to "trace every payment", and called the currency "a little scary".
Will the Digital Yuan Settle for Domestic-Only Acceptance?
Li Bo, the PBoC governor, pointed out that the digital yuan isn't aimed to replace the US dollar. Instead, the government targets to make it widely used for domestic purposes.
Bo's statements are a departure from the generally optimistic tone taken towards the currency's global potential. However, it is now clear that the government faces steep challenges to attracting even domestic users. Prying them from an entrenched Tencent and Antgroup financial infrastructure, regardless of the currency's international reception, may be more difficult than originally thought.
What are your thoughts on Bloomberg's report about digital yuan? Let us know in the comments section below.
Image Credits: Shutterstock, Pixabay, Wiki Commons