Multi-Character Action Platformer 'One Escape!' Coming to Mobile this Week, Available for Pre-Order Now at 50% Discount
Once upon a time, three anthropomorphic friends decided to rob a bank. This group of friends was comprised of a warthog, a gorilla, and a duck. The three best friends in the entire animal kingdom, as everyone already knows. Anyway, this whole bank-robbing thing did not go so well, and all three ended up getting arrested and thrown in the slammer. This is not where these guys want to be. So now it's up to these three extremely muscular animal people to work together and bust themselves out of prison. This is the premise of One Escape!, an action/puzzle platformer from Bug Studio that launched on Xbox, PlayStation, and Switch back in March through publisher Ratalaika Games and will be arriving on mobile devices this Wednesday courtesy of the fine folks at Crescent Moon Games. Here's the launch trailer from that console version of One Escape!
As you can see, One Escape! is a neat blend of platforming with some stealth and puzzle elements mixed in for good measure. You're constantly trying to evade police because, well, they aren't big on the idea of you breaking out of prison and they'll do anything to stop you. This includes mindlessly rushing off the edge of high platforms and plummeting to their death. Hey, at least they aren't after you anymore, I guess. You'll be able to play as each of the game's three characters, who all have their own unique abilities that will help you get through the game's 60 levels. The planned launch date for the mobile version of One Escape! is this Wednesday, May 5th, and if you're on iOS you can pre-order the game right now for just $1.99 which is 50% of its regular price. I'm definitely looking forward to getting my hands on One Escape! later this week.
Overwatch 2 Developer Update Promises More PvP News This Month
Following the departure of long-time Overwatch director Jeff Kaplan, fans have been concerned about the future of the franchise, specifically Overwatch 2. Today, the game's new director, Aaron Keller, offered a quick developer update to shed some light on when Blizzard plans to reveal more about the sequel ahead of Overwatch's 5th anniversary.
As opposed to further discussing co-op and story, Keller says the next big info drop will elaborate on Overwatch 2's PvP element. On May 20, Blizzard will host a livestream featuring both developers and Overwatch League teams where they'll play matches in Overwatch 2's new maps. They'll also dive into the changes coming to the game's PvP. Exciting as that may sound, Keller makes sure to temper expectations by stating that the maps shown are very much a work in progress. Blizzard plans to share more about the competitive modes later in the year. On May 24, the Overwatch subreddit will host a developer AMA (Ask Me Anything) focused on Overwatch's development over the last five years as well as Overwatch 2's progress. 
If you've been impatiently waiting for more news on Overwatch 2, this update might be music to your ears. Although I wouldn't expect to hear any word of a release window, it'll be nice to see Overwatch 2 in action and who knows what details could come out of the AMA. If nothing else, Blizzard could probably use a bit of positive news overall. The company's eSports division was recently hit with layoffs, and its lawyers have been picking fights with Fox over a cartoon dog named Diablo. It's been an odd time to be Blizzard, and arguably stranger to be a fan. 
What do you make of the upcoming Overwatch 2 updates? What else do you hope to learn about the game? Let us know in the comments!
Nier Reincarnation Pre-Registration Starts Today In Select Regions
Nier Reincarnation is an upcoming mobile game that serves as the next chapter in the expansive Nier universe. The title has been out in Japan for some time, but last week, Co-Director Daichi Matsukawa announced that the team was preparing for the game's pre-registration. Starting today, you can finally add your name to that list if you live in North America, Europe, and Korea.
Players can pre-register through the AppStore and Google Play right now. However, anyone who registers through the latter platform might be randomly selected to participate in a closed beta test before the full game becomes available to the public. Of course, in-game rewards can be secured as well. If Nier Reincarnation acquires 300,000 pre-registrants, all players will be gifted 3,000 gems on launch day that can be exchanged for powerful abilities like summons. More information about the pre-registration period can be accessed here. 
At its core, Nier Reincarnation continues the dark and melancholic themes that the franchise is known for. The story chronicles the odyssey of a young girl and her companion, Mama, as they attempt to navigate and survive in an otherworldly realm called The Cage. Beyond this, the narrative details become a little vague, but remain exciting nonetheless: "To reclaim what she has lost – and atone for her sins – [the girl] sets off on a journey through this place of unknown creation." For a better idea of the visuals, mood, and gameplay, watch the promotional trailer at the top of the page.
There's bound to be emotionally tense moments penned by Nier creator Yoko Taro and incredibly atmospheric music composed by Keiichi Okabe. Even Producer Yosuke Saito was also involved in the game's development. Details on the release period have not been unveiled yet, but Nier Reincarnation will be playable on iOS and Android devices.
---
I've been waiting for this game for a long time, so I've already pre-registered it; are you planning on doing the same? Do you think that the fast-paced combat mechanics and multi-layered plot motifs will translate well enough to the small screen?
'NieR Re[in]carnation' Now Available for Pre-Order with an Expected November 6th Release Date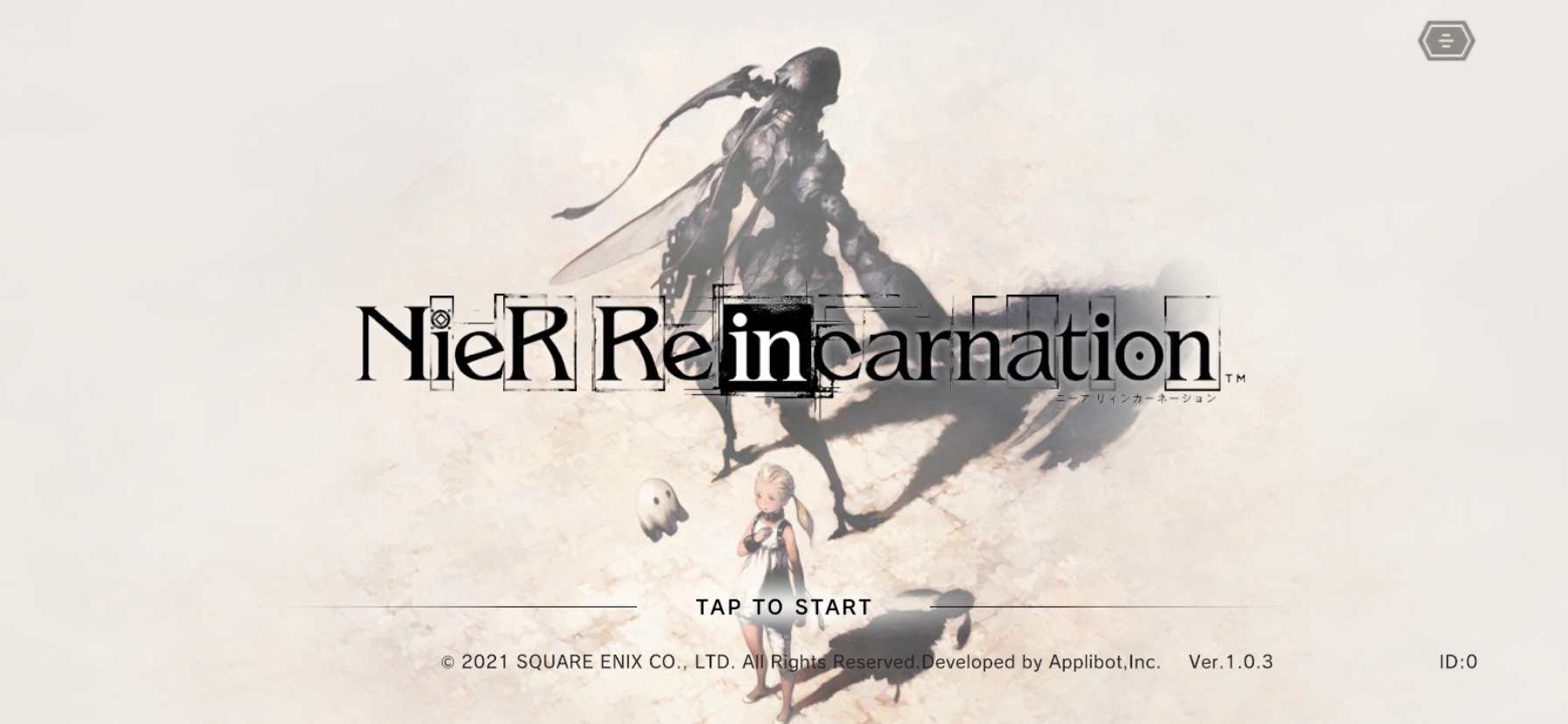 It was just over a year ago during a 10th anniversary livestream event celebrating the release of the original NieR that Square Enix announced a new spin-off title for mobile devices called NieR Re[in]carnation, which is kind of funny since NieR itself is a spin-off of the Drakengard series. So, a spin-off of a spin-off. I dig it. Square Enix released a few different trailers for the game over the course of last year and confirmed in September that the game would be getting a wider release outside of Japan, with a full English dub and localization confirmed just this past February ahead of the game's Japanese launch.
We had anticipated that Square Enix might be planning to release that localized version alongside the release of the remastered version of the original game on consoles and PC, but the NieR remaster arrived last month with no sign of a release for the mobile version. Then earlier this month it was confirmed that the initial localization of NieR Re[in]carnation was completed, so it seemed that a release should be coming fairly soon. Right?
Well, that doesn't seem to be the case either, as today NieR Re[in]carnation went up for pre-order on the App Store and its listed release date is for November 6th of this year. That's… not so soon. However, we've certainly seen those dates change in the past, so perhaps it's just a placeholder date and the game will actually launch sometime before then. Or perhaps that's just how long it's going to take to finish up the localized version.
Whatever the case we'll continue to keep our eye on NieR Re[in]carnation's development and in the meantime you can check out all our previous coverage of the game by clicking this link here. If you want to go ahead and pre-order you can do so on the iOS App Store here and on the Google Play Store here.