Returnal Patch Arriving Tomorrow, Players Warned to Turn Off Auto-Update to Keep Their Runs – IGN
Housemarque has warned
Returnal
players who wish to keep their current run to turn off PS5's auto-update feature as a new patch will go live tomorrow, May 5, at 12pm PT/3pm ET/8pm BST.Housemarque shared the news on
Twitter,
and the warning is necessary because
Returnal does not let you save during its runs,
some of which can take two to three hours.The only way to currently save your place in a Returnal run is to put your PS5 into Rest Mode. While this is great in theory, an auto-update will reset the game and erase your run from existence.
While they haven't committed to any changes, Housemarque did say that "we hear the community and we love you all. Nothing to announce now, but keep playing and enjoying the challenge as you can!"
In our review of Returnal, we said, "Its roguelike runs are too long and it needs a way to save in the middle of them, but Returnal's third-person shooter action, clever story, and atmosphere are excellent."
For more on Returnal, check out the game director's comments on how difficulty is an "integral part" or Housemarque's philosophy and some essential tips and tricks to get you started.
Have a tip for us? Want to discuss a possible story? Please send an email to newstips@ign.com.
Adam Bankhurst is a news writer for IGN. You can follow him on Twitter @AdamBankhurst and on Twitch.
'Memory Stamps' is an Extremely Stylish Memory Puzzler that's Launching in June and Up for Pre-Order Now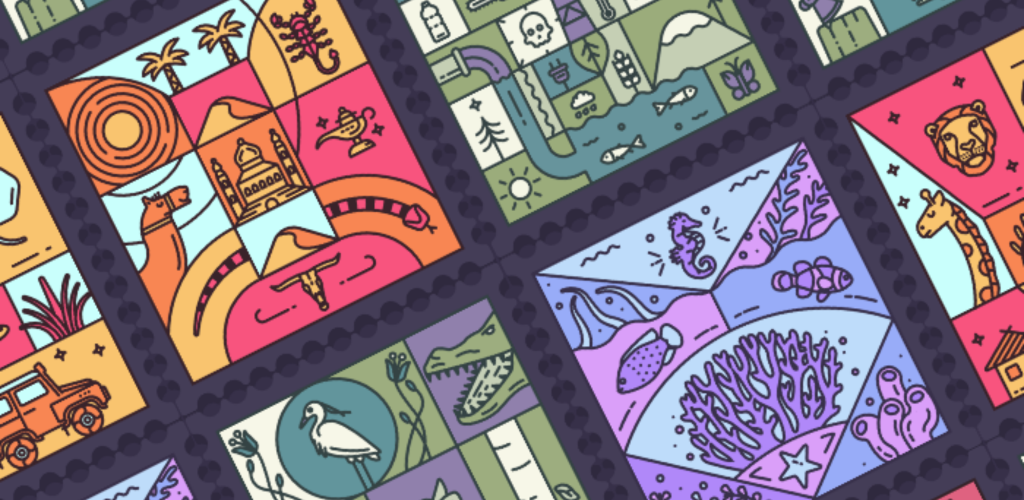 We've been quite taken with lots of projects from developer Tepes Ovidiu aka Crevasse, like Not Chess, The Longest Drift, Cessabit, and plenty more. One thing you can always be sure of with a game or app from Crevasse is that it will be an extremely well-designed and polished user experience. This seems to ring especially true with their latest upcoming project Memory Stamps, which sort of straddles the line between being a game, being a memory training app, and being a just plain relaxing little thing to occupy your time with. The gist is that you'll be presented with a stamp split up into a bunch of different sections, and in each of those sections will be an illustration of some type. Then several of the sections will disappear and it'll be your job to remember which illustration was in each of the missing sections so you can piece things back together to how they were originally. It's one of those things that's probably more easily understood by watching the trailer.
Crevasse claims in the App Store description that Memory Stamps utilizes "a few a proven methods to enhance visual memory and helps you relax" and so you could look at it as a way to keep your mind sharp. The Zen Mode allows you to play at your own pace with no stress. But if you're looking for a more gaming-focused experience, the Challenge Mode tasks you with finding the missing sections with a limited amount of errors and using a limited amount of time to study the original full stamp, so as its name implies this is the mode you can play to challenge your skills. And of course this is a pay-once game with no ads, IAP, or online connection requirements. If you like the idea of Memory Stamps you can pre-order it on the iOS App Store right now for just $1.99 or pre-register on the Google Play Store for Android here, and it's scheduled to launch in just a couple of weeks on June 1st.
Assassin's Creed Valhalla: Wrath of the Druids Review – IGN
Returning to Assassin's Creed Valhalla's vast world can feel daunting after months away. Even with dozens of hours of completing the story and side exploration and pillaging under my belt, there was still so much to be done. But fear not: you should feel no need to complete it all before jumping into Wrath of the Druids, the new expansion that brings Eivor to the rolling hills of Ireland, because its content available early in the campaign and is worth putting ahead of most of the other sidequests that fill out the world. The adventuring and combat is more of the same for the most part, but its new twisting tale of politics and mysticism really stands out among the best storytelling in the series and the Druids themselves are stand-out enemies.
You know you're headed for a new DLC area when a new guest suspiciously arrives at the docks of Ravensthorpe with summons from a cousin who – though he's never been mentioned before this moment – has managed to become king of one of the various warring territories of Ireland and is in desperate need of help. Eivor doesn't need much convincing after possible trade routes and riches for her clan are mentioned, but I wish more time was spent making this feel smoothly integrated as a necessary next step, rather than an obvious way to access a new area added after the fact.
Touring through Ireland itself is beautiful. It's not obvious immediately upon arrival, but after riding through the countryside over emerald hills and long sheer cliff faces, the mix of rocky hillside and colorful plains stand out starkly from England and Norway. It's also somber and creepy at times, with many of the boggy swamps looking right out of an otherworldly fairy tale. Postcard-worthy standing stones and castles overlooking oceans add that signature stalwart ruggedness that tourists have come to identify as part of the landscape's charm.
Ireland's boggy swamps look right out of an otherworldly fairy tale.
---
"
However, the great majority of Wrath of the Druids' quests follow a pattern that's rigidly similar to those in vanilla Valhalla (and most open-world action games): go find this place, take a thing from that place, and/or kill everyone in that place. I didn't expect Ubisoft to reinvent the huge game it created just for its DLC, but the main story quest of Wrath of the Druids leans too heavily on recycled conquest and exploration activities we saw too much of in the main game already, and the gameplay variety suffers as a result.
Royal Demands, a new quest type, feels like an active step backwards from Valhalla. Simple tasks, like clearing outposts and stealing requested items, are assigned to Eivor anonymously via messages left at pigeon coops that dot the land. Completing these helps your allies gain influence in Ireland's four regions, which opens up quests and rewards you with building resources. So they're important… and yet, they never feel like more than simple busywork, so I never looked forward to actually doing them.
Every IGN Assassin's Creed Review
The story, on the other hand, felt consistently engaging throughout the around 10 hours it took to see the end. The political tension of Ireland's High King Flann's attempt to unify the country is interlaced with the cultural boiling point that the several religious factions have come to. Cousin Baird's kingship under Flann is in constant danger, thanks to personal and professional missteps between the two. Flann's bard, Ciara, lives in service of the new Christian monarchy, but was raised a druid and struggles to balance the weight of both worlds. Strong and charming voice performances paired with solid character arcs full of twists and consequences all help make the story's heavy tone more approachable. In the background, Wrath of the Druids breaks down the nuances of Christianity's slow assimilation of the region, and depicts the desperate acts that the indigenous pagan people resort to when faced with the potential extinction of their ways. More so than any time in the original story, the existential dread of the conquered people felt relatable and palatable.
The Children of Danu represent this expansion's most significant actual improvement over Valhalla.
---
"
As you get to the heart of this matter you learn that a radicalized group of druids, The Children of Danu, have committed themselves to preserving the old ways through violence, manipulation, and deceit – and they represent this expansion's most significant actual improvement over Valhalla. Mechanically, they're simply another Order of The Ancients: a list of names to investigate, hunt down, and kill. The revitalizing twist on the concept, though, is that Wrath of the Druids makes the investigation, tracking, and assassination of these targets a far greater focus than the main campaign, in that many of the later quests require you to actively engage with the system to progress to important story events. You actually have to pay attention to the notes you gather about targets and follow their trails to the locations you deduce from them. The whole experience is better for it.Druids that serve the The Children make combat a bit more interesting, to say the least. Thanks to their hallucinogenic gas, Evior believes they have magical powers, and so for all intents and purposes they do. In these cases, perception is reality – they dart around the screen at lightspeed, throwing all manner of fire and poison at you. These are a type of encounter we never saw elsewhere in Valhalla, and it's refreshing and exciting to face a new class of foe. Some optional enemies feel challenging as well, like the pair of drengr minibosses lurking in the countryside. But outside of that, most of the run-of-the-mill slaughter feels unsatisfyingly samey next to an already massive game full of those fights.
A few pieces of armor do look particularly badass.
---
"
As you'd expect from any Assassin's Creed expansion, Wrath of the Druids contains a handful of new armor sets and weapons to find, creatures to hunt, and combat challenges to face as optional side missions. I didn't find any gear worth swapping my loadout for, but a few pieces of armor did look particularly badass. Some of the combat challenges, like the Trials of the Morrigan, serve as another opportunity to experience more of the cool and trippy (but all too rare) druid combat. The most elaborate and useful addition to the selection of side missions, though, involves establishing trade posts across Ireland. Each post passively generates a type of new resource like honey or clothing that can be used to trade for gear and renown at the overseas trading HQ. Like many of Valhalla's side activities (raids, treasure hunting, etc) the mileage you get from it is directly related to how valuable you find the completionist pursuit of making sure everything that can be yours, is yours.
Assassin's Creed Valhalla: Wrath of the Druids Official Screenshots
Ubisoft Isn't Abandoning Its AAA Franchises With New Free-To-Play Initiative
Ubisoft provided an update for its game release schedule during a recent earnings call, including information regarding Skull & Bones, but there was also talk of the company's new initiative going forward: free-to-play games. With the announcement that Tom Clancy's universe is expanding with two new F2P adventures, many have been concerned about what this means for single-player staples under the Ubi umbrella. Staples like Assassin's Creed, Far Cry, and more. 
In the earnings call, it was revealed that a big focus shift is currently in the works, making the move towards more free-to-play expansions on beloved universes and new IPs, as well. In a small statement provided to Game Informer, a Ubisoft representative had this to say: 
"Our intention is to deliver a diverse line-up of games that players will love – across all platforms. We are excited to be investing more in free-to-play experiences, however we want to clarify that this does not mean reducing our AAA offering. Our aim is to continue to deliver premium experiences to players such as Far Cry 6, Rainbow Six Quarantine, Riders Republic and Skull & Bones to name a few while also expanding our free-to-play portfolio and strengthening our brands to reach even more players."
Ubisoft's Frederick Dugeuet mentioned during the financial presentation that the shift had to do with moving away from the annual release model that the studio became infamous for. With pulling from that yearly release schedule for games like Assassin's Creed, the quality of those mainstay franchises soared in a massively positive direction, proving that the annual model was no longer working. With that shift, there is a little more freedom to explore other avenues of expansion, including the F2P model and mobile ventures. 
The long and short of it is that yes, Ubisoft is going to be focusing on free-to-play experiences, but that does not mean that it is abandoning what it is known for. Now, we've just got to wait patiently for some dang Beyond Good & Evil 2 news…
---
What would you like to see Ubisoft focus on in the future? Are you worried by the F2P push, or are you excited for these teams to have avenues to explore more gaming options? Sound off with your hot takes in the comment section below!