IPL 2021: After IPL Postponement, T20 World Cup May Be Moved To UAE, Says Report | Cricket News
This year's T20 World Cup is set to be moved from India to the UAE with the BCCI acknowledging that none of the participating teams would be "comfortable" coming to India. While a final decision will be taken in a month's time, it is understood that even the Indian cricket board is jittery about holding the 16-team tournament in October-November after the ongoing IPL had to be suspended because of multiple COVID-19 cases inside the bio-bubble. PTI has learnt BCCI officials have had very recent discussions with some of the top decision-makers in the central government and a shift to the UAE has been more or less agreed upon. The dates of the marquee competition, which was planned across nine venues, have not yet been finalised.
"The suspension of IPL within four weeks is an indicator that it's not really safe to host a global event of that magnitude at a time when the country is fighting its worst health crisis in last 70 years," a senior BCCI source privy to development said on conditions of anonymity.
The dire situation in India, where a daily addition of over 3 lakh new cases has continued for the past many days, has shaken most of the member boards and the ICC is unlikely to take a risk with safety of international cricket teams.
"You can be rest assured that most of the top nations wouldn't like to tour India within next six months unless the situation comes to normalcy. The players and their families would be very wary to travel if they are in the middle of another surge. So expect BCCI to agree with shift of tournament to UAE," another source also chipped in.
He said IPL's suspension after a string of positive cases has made the officialdom very jittery of taking any more risks.
"The IPL in India was a platform to prove to the world as well as participating nations that it is safe to host a tournament even when the second wave is hitting its peak.
"It was going well but the bio bubble has now become porous. What's the guarantee it won't happen again in October-November. Nations like Australia, England and New Zealand are almost certain to have travel advisories in place," he argued.
One of the biggest reasons for conducting the tournament in the UAE is that it can be kept to three grounds — Sharjah, Dubai and Abu Dhabi — and there is no air travel.
"Look, six venues for IPL was always a dangerous proposition when they successfully managed with three during the last edition," the source said.
"In UAE, all of them were in one bubble from start to finish while here each team was travelling to three bubbles. Most of the positive cases emerged after bubble travel.
Promoted
"Therefore even if you reduce the number of venues from 9 to 5 in October, still there will be air travel unlike UAE. Also for players, they would not be mentally in a space to play in India unless the situation drastically improves," he added.
There is an ICC meeting in June where a final decision will be taken but retaining the tournament in India after cancellation of IPL seems far-fetched at this point.
Topics mentioned in this article
Kuldeep Yadav Receives A Dose Of COVID-19 Vaccine | Cricket News
India and Kolkata Knight Riders (KKR) spinner Kuldeep Yadav received a dose of the COVID-19 vaccine on Saturday. Kuldeep posted a photo of himself getting vaccinated and urged everyone to get the jab in order to fight against the coronavirus pandemic. "Get vaccinated immediately whenever you get a chance. Be safe because you need to be united in the fight against COVID-19," Kuldeep tweeted in Hindi.

— Kuldeep yadav (@imkuldeep18) May 15, 2021
India Test opening batsman Shubman Gill also received his COVID-19 vaccine jab on Saturday.
Earlier this week, pacer Jasprit Bumrah skipper Virat Kohli, fast bowler Ishant Sharma, batsman Cheteshwar Pujara and Rishabh Pant also received their jabs.
Pant, Rahane, Umesh Yadav, Ishant, Kohli, Bumrah, and Pujara will be seen in action when India play against New Zealand in the final of the World Test Championship (WTC) in June.
The Board of Control for Cricket in India (BCCI) has made a foolproof plan for the national team before they depart for the UK to play the WTC final and the five-match Test series against England.
Speaking to ANI, sources in the know of the roadmap drawn said arrangements have been made for all the players to undergo three RT-PCR tests before assembling in Mumbai on May 19.
"The players will be undergoing three RT-PCR tests at their homes, and once they return negative tests, they will be assembling in Mumbai on May 19. Everyone in the contingent will be undergoing 14-day quarantine in India before they leave for the UK on June 2," said the source.
Promoted
Almost all the members of the Indian contingent set to depart for the UK have taken the first dose of their Covid-19 vaccine and they are likely to take the second jab in the UK itself.
India's squad: Rohit Sharma, Shubman Gill, Mayank Agarwal, Cheteshwar Pujara, Virat Kohli (captain), Ajinkya Rahane (vice-captain), Hanuma Vihari, Rishabh Pant (wicket-keeper), Ravichandran Ashwin, Ravindra Jadeja, Axar Patel, Washington Sundar, Jasprit Bumrah, Ishant Sharma, Mohammad Shami, Mohammed Siraj, Shardul Thakur, Umesh Yadav, KL Rahul (subject to fitness clearance), Wriddhiman Saha (wicket-keeper; subject to fitness clearance).
Topics mentioned in this article
VIRAL video: When Virat Kohli was quizzed about Sachin Tendulkar by Priyanka Chopra, Abhishek Bachchan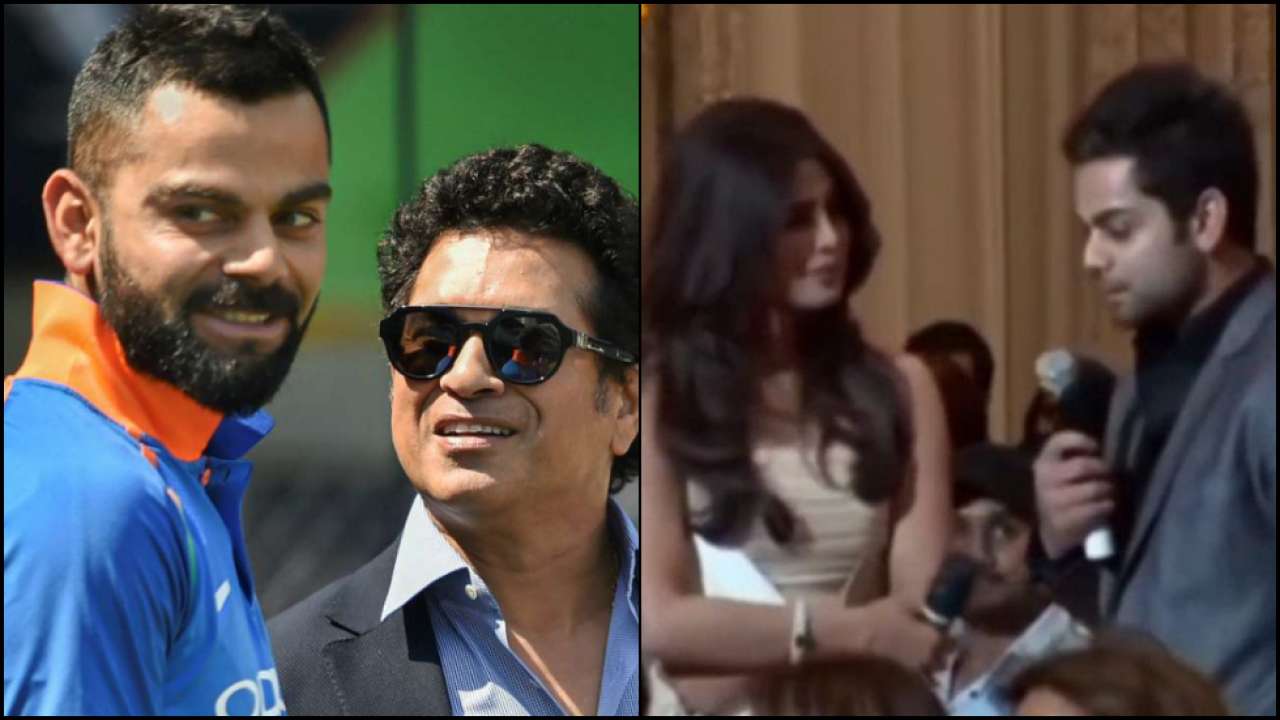 Surely, Indian skipper, Virat Kohli is one of the greatest players of the current generation, but, back in 2012, while he was still taking baby steps among the big boys, he had expressed his love for legend Sachin Tendulkar. 
Now recently, a video surfaced on social media where the then young Kohli was seen talking about his journey to cricket and the reason why he started playing the sport.
The clip is from a party where the likes of Ambanis, Salman Khan, Lata Mangeshkar were gathered to celebrate Sachin Tendulkar's 100th century in international cricket. 
Kohli stated how he was honoured to share a dressing room with Sachin after he was questioned by Bollywood actress Priyanka Chopra.
"He is the reason I started playing cricket. Like me, I think most of the youngsters in India started playing cricket after watching Sachin. Today, it is a great honour to share the same dressing room with him. When I was young, my dream was only to meet him in real life, and to get to know him personally is the best thing ever for him," Kohli had said.
While the answer was true from his heart, what stole the show was actor Abhishek Bachchan, who also joined in. He echoed Kohli's words and also wished for Arjun Tendulkar to follow in his father's footsteps.
"I would like to second what Virat said that Sachin was the reason a lot of us started playing cricket and Sachin was also the reason we all very quickly realised that we can't be Sachin, so we should stop playing cricket and attempt something a bit easier in a field where we are not going to be compared, like acting.
"I know Arjun very well. I hope I am around when Arjun plays his hundredth hundred because I am sure he is going to follow in his father's footsteps," Abhishek stated.
As of 2021, Kohli is amongst the leading batters across all three formats. While he hasn't scored a century for nearly two years, the Indian captain remains a fulcrum of India's batting unit. 
Sachin, on the other hand, is the only batsman with 100 tons at the highest level. He had retired in 2013 after the two-match Test series against the West Indies.
Serie A: 10-Man Juventus Win Inter Milan Thriller To Keep Champions League Hopes Alive | Football News
Juan Cuadrado scored twice, including a late penalty, as Juventus beat Inter Milan 3-2 to keep their Champions League hopes alive on Saturday in a game where three spot kicks were awarded and both teams finished a man down. Juve moved up to fourth equal on points with third-placed AC Milan and two points ahead of Napoli who both play on Sunday. The win ended the 20-match unbeaten run for Antonio Conte's Inter who had denied Juventus a 10th consecutive league title this season.
"It was important for us to win so we can keep hoping," said coach Andrea Pirlo. 
"If we'd shown the same desire and determination as in our last few games, we'd be in a different position. 
"If we're going into the final game of the season fighting for fourth place, clearly we've come up short somewhere."
Cristiano Ronaldo missed a penalty after 24 minutes but turned in the rebound to bring his tally to a Serie A leading tally 29 goals this campaign.
But Inter got back level nine minutes later with a Romelu Lukaku penalty, to move him second behind Ronaldo with 23 goals.
Juve pulled ahead before half-time when Cuadrado blasted in past Samir Handanovic.
But the hosts played most of the second half a man down after Rodrigo Bentancur was sent off for a second yellow card for a Lukaku tackle.
Ronaldo was substituted off with 20 minutes to go with Alvaro Morata coming off the bench.
"Cristiano was perhaps happy for the first time to be subbed off because we were down to 10 and he would have had to run in a vacuum for the rest of the game," said Pirlo. 
Captain Giorgio Chiellini turned into his own net with seven minutes to go but in a dramatic end to the game Juve were awarded another penalty for an Ivan Perisic foul on Cuadrado which the Colombian converted.
Inter also finished the game a man down with Marcelo Brozovic getting a second booking in injury time.
"This is a massive win," said Chiellini.
"I don't know if it will help us qualify for the Champions League but at the moment we deserve the position we're in. 
"We haven't been consistent enough and we know that."
Roma end Lazio Champions League hopes
Earlier Atalanta sealed their spot in the Champions League for a third consecutive season with a 4-3 win over Genoa.
The Bergamo side are second, three points ahead of AC Milan and Juventus, and are assured of elite European football before the two teams go head-to-head next weekend.
Atalanta paved the way with three first half goals. 
Ruslan Malinovskyi set up Duvan Zapata for the opener and then scored himself, with Robin Gosens grabbing a third before the break.
Mario Pasalic added a fourth six minutes after the break before 14th-placed Genoa hit back with an Eldor Shomurodov brace either side of a Goran Pandev goal just after an hour.
"For us, returning to the Champions League this year tastes better," said coach Gian Piero Gasperini, who brought the Bergamo side to elite European football for the first time in the 2019-2020 season.
"Three times in the Champions League is a great achievement. The trophy would be the icing on the cake, but we are convinced that we have won a lot anyway."
Atalanta will bid for just their second ever trophy in the Coppa Italia final against Juventus next Wednesday in Reggio Emilia.
The club won the Coppa Italia back in 1963.
Even if Milan, who host 16th-placed Cagliari on Sunday, win their last two matches, Atalanta are now assured of a top-four finish.
Promoted
Roma won their first derby since 2018 against Lazio 2-0 with goals in either half from Henrikh Mkhitaryan and Pedro, ending their city rivals' hopes of a return to the Champions League.
Lazio are eight points behind Juventus having played a game less.
Topics mentioned in this article