IPL 2021 Postponed: Unfortunate But "Correct Decision", Says Ness Wadia | Cricket News
Punjab Kings co-owner Ness Wadia said that it was unfortunate that the 2021 season of the Indian Premier League (IPL) had to be postponed, but asserted that it was the correct decision. IPL 2021 was on Tuesday postponed due to a spate of COVID-19 cases among players and support staff. Ness Wadia said that it was unfortunate, how the pandemic has "gotten out of hand" in the last few weeks, and that the correct call was taken to bring the tournament to a halt.
"It's unfortunate that we had to suspend the IPL. I think it's the correct decision," Ness Wadia told NDTV.
"I think the decision earlier to start it also was a good decision given everything," he added.
"It's unfortunate, the last 2-3 weeks things have gotten out of hand. I think we were all pretty comfartable with the fact that India was doing better and it's unfortunate that it's come back with such a vengeance," he said.
Wadia said he is not sure about the future of the tournament, which came to a stop just after the half-way point in the league stage.
"I'm not sure, it might happen some time in the future," he said.
Talking about people who said it was inappropriate for the IPL to be held while cases surged in the country, the PBKS co-owner said "There's always going to be a negative viewpoint, or a view point that thinks we could have, should have and if they were there, they would have done better."
"I would just like to point out that this IPL was planned two months in advance. There was meticulous planning. The IPL was held in the UAE last year, and there was not a single case," he said.
"If this IPL had gone off, and if almost if not more than 50% had gone off without any hiccup or cases, people would have said it's amazing, India's amazing, it's amazing what the BCCI has done," Wadia said.
"There will always be naysayers, those who say don't do things. I think it's good that we demonstrated that India can hold international events of this scale, protecting the people," he said.
"There are lessons to be learned as to whether there should be lesser venues, what is the gap in the testing. But it's happened with other international tournaments. In Australia, the Australian Open. They had to postpone it, they had to shut the city down. France is the same, the French Open was postponed by a week," Ness Wadia said.
"The world needs to go on. We are very well aware of the issues surrounding our fellow Indians and global citizens. We know there is a pandemic and we have to be careful and wise and prudent. All the due diligence was done for this. It's unfortunate that it had to end, but it's the right decision," he re-asserted.
Asked about the financial impact the decision will have on the franchises, Wadia said it was not the correct moment to think about finances.
Promoted
"I don't think now is the time to talk about financial ramifications. I think, we just want to make sure everyone is safe," he said.
"I am sure there could be, we don't know. It's too early," Ness Wadia said about the chance of the tournament continuing. "The tournament will continue, it's a matter of time as to when that happens, when things will get better. I think humanity needs to be cared for first and the IPL follows second," he said.
Topics mentioned in this article
"It's A Lie": Zinedine Zidane Denies Telling Players He Will Leave Real Madrid At End Of Season | Football News
Zinedine Zidane has denied telling Real Madrid players that he would resign at end of season.© AFP
Zinedine Zidane has denied already telling his players he will resign as Real Madrid coach at the end of the season. Zidane was asked again about his future after Madrid's 1-0 victory away at Athletic Bilbao on Sunday, a win that keeps them two points behind leaders Atletico Madrid heading into La Liga's final weekend. According to Onda Cero radio and Goal online earlier on Sunday, Zidane, who has a contract until 2022, informed his squad a week ago that he was going to leave after the team's final game next weekend.
But Zidane said in Sunday's post-match press conference that was not the case. 
"How am I going to tell my players that I am going now? It's a lie," he said. 
"I focus on this season. There is a game left and we are going to give everything. I only care what happens in this finale. The rest, we will see at the end of the season."
Former Juventus coach Massimiliano Allegri, ex-Madrid striker Raul Gonzalez and Joachim Loew, who will step down as Germany coach at the end of this summer's European Championships, have all been mentioned as possible successors.
Zidane hinted on Saturday he could leave, saying he believes "there comes a time when it's the moment to change". 
Promoted
"I don't leave because it's easy. It's not like I turn away and don't look back," Zidane said. 
"No, there are moments when you have to be there and there are moments when that's it, it's finished, it's time to change. But for the good of everyone, not just for me."
Topics mentioned in this article
IPL 2021: No, Virat Kohli is NOT RCB fangirl Rashmika's favourite cricketer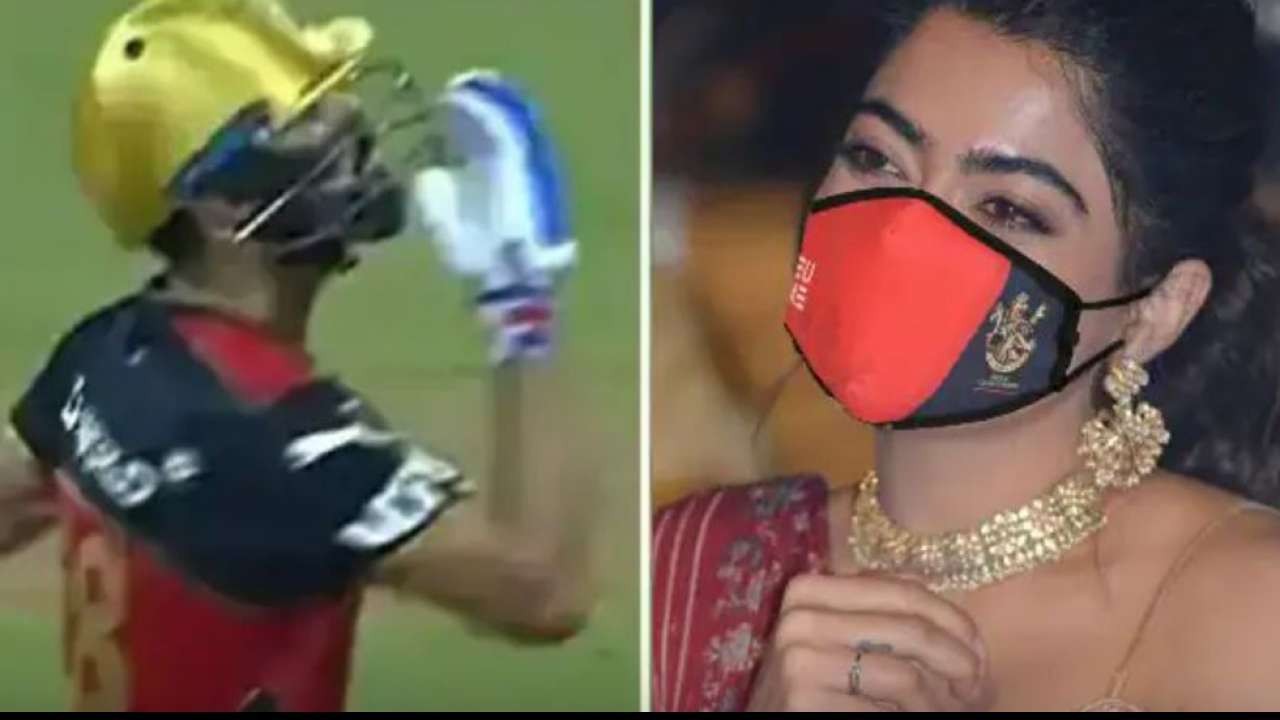 In a surprising development, south Indian actress Rashmika Mandanna – who is a huge cricket fan – has revealed that though she is a fan of IPL franchise Royal Challengers Bangalore, her favorite cricketer is not RCB skipper Virat Kohli. It may be recalled that Rashmika sparked a frenzy on social media when she said 'ee saala cup namde' in support of RCB. 
The pretty actress made the statement during a social media interaction with fans during the now-suspended IPL 2021. Recently, Rashmika was asked about her favourite cricketer and stunned everyone by saying that Chennai Super Kings (CSK) captain MS Dhoni is a 'master class player'. Rashmika lauded Dhoni for his batting, captaincy, and wicketkeeping.
"Dhoni batting, captaincy, wicket keeping … that means he will fall and die … he is a master class player. Dhoni is my hero," Rashmika said in a recent interaction on social space.
Rashmika is currently working opposite Allu Arjun in a film titled 'Pushpa'. Not just Tollywood, she has recently signed up for a Bollywood film that would feature Amitabh Bachchan. She has already made her Bollywood debut in Mission Majnu.
Australian IPL Cricketers Land In Sydney After Fleeing Covid-Hit India | Cricket News
Steve Smith, Marcus Stoinis and Moises Henriques were among the Australians at the IPL.© Delhi Capitals/Twitter
Australian cricketers arrived back in Sydney on a charter flight Monday, more than a week after fleeing Covid-stricken India for the Maldives, local media reported. Cricket authorities had been rushing to evacuate players and support staff after the lucrative Indian Premier League was suspended earlier this month as coronavirus cases surged in the country. National broadcaster ABC reported that players including Steve Smith and David Warner were on board an Air Seychelles plane that touched down in Sydney about 7:30 am local time.
A group of 38 players, coaches, officials and TV commentators had reportedly been staying in the Maldives, after leaving India on May 6 aboard a charter flight arranged and paid for by the Board of Control for Cricket in India.
Two days ago the Australian government lifted a temporary ban that threatened citizens attempting to return from India with jail, paving the way for the group to return.
Prime Minister Scott Morrison said Sunday the cricketers had not been given any special treatment, and would be coming back "under their own steam, on their own ticket".
They are now expected to undergo 14 days of quarantine in a Sydney hotel, as part of strict border controls that have largely contained the spread of the virus in Australia.
Adam Zampa, Andrew Tye and Kane Richardson had left their IPL teams ahead of the larger Australian contingent, and were due to have completed quarantine last week.
Promoted
The IPL started in early April with the decision to go ahead in the face of a deepening health crisis prompting criticism from some observers, while others defended it as a welcome distraction for the embattled Indian public.
India reported more than 310,000 new infections and 4,000 deaths on Sunday, with the official number of Covid fatalities in the nation of 1.3 billion people now exceeding 250,000.
Topics mentioned in this article